Fotolia
Prepare your production environment for a vRealize 7 upgrade
Attempting an upgrade to vRealize 7? Due to major software changes, there are a few things you'll need to know before you can get to work.
Anyone who has been following the timeline of vRealize is aware that version 7 has been out for some time. Doing a green field site installation is easy enough, but doing an in-place upgrade is not a simple process due to the many changes in terms of servers and the way it works. VRealize 7.0.1 was released more recently and contains a number of security patches and fixes to the faulty production code, but adds no additional functionality.
In this tip, we'll review how to complete a generic lab upgrade with special attention to the order in which upgrades must be completed. Before proceeding, you should coordinate your production environment upgrade with VMware, as the company's setup page allows administrators to open a ticket and get a step-by-step assistance from VMware support.
Requisites for a vRealize 7 upgrade
VRealize has a very specific support matrix, and the first step to a successful vRealize 7 upgrade is to make sure your configuration is on that matrix.
Some of the Windows Server OS platforms that were supported on previous versions of vRealize are no longer supported. This matrix also includes Microsoft SQL, infrastructure as a service (IaaS) and other components. You'll need to make sure your current environment is at one of the supported levels. The general consensus seems to be that 6.2.2 is the best release option.
There are a number of other things to take into account before beginning the upgrade process. For starters, older versions of Orchestrator are not compatible with vRealize 7, so you'll have to upgrade to vRealize Orchestrator 7. VRealize 7 also does not support physical endpoints -- meaning there's no support for Dell Remote Access Controller, Integrated Lights Out or Cisco -- according to the support matrix.
There have been a number of logic changes behind the scenes and any custom IaaS workflows will be deleted. Overall, the core fundamentals of how orchestration works have changed massively with the new release, so I advise making sure you're familiar with the new platform before attempting the upgrade.
A basic vRealize 7 upgrade walkthrough
Once you've made sure your configuration is valid in the compatibility matrix, you're ready to proceed with the upgrade. Keep in mind that these instructions apply to the most rudimentary lab environment with all the defaults, and without load balancers, external orchestrator appliances or unusual components.
First and foremost, make a backup. The upgrade is quite a complex procedure and the potential to go wrong is ever present. Once you've created a backup, shut down all the services on your IaaS server for the duration of the upgrade. You might even want to set them to manual. If you have separate Distributed Execution Manager Workers or Orchestrator servers, you need to stop the services on those machines.
Shut down the vRealize Appliance and check to see that it has 18 GB of RAM and four vCPUs as a start. You also need to expand hard disk 1 to 50 GB. If you have snapshotted the vRealize Appliance, you'll need to use the clone method to create a new instance. Delete hard disk 4, then recreate it with a new 50 GB instance. You may find you have two smaller disks. If this is the case, set hard disk 3 to 25 GB and hard disk 4 to 50 GB.

Each vRealize Appliance instance must also have its first disk resized. Next, upgrade the vRealize Appliance by logging in to the vRealize Appliance Web interface using your root account and selecting the update tab. Select check updates and, provided everything goes well, it will inform you that an update is available.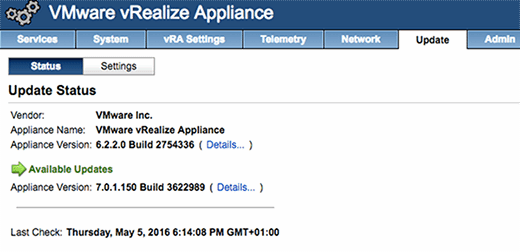 By this point, the vRealize Appliance should automatically upgrade itself -- a reboot is required. Once you've rebooted, upgrade the Single Sign-On (SSO) appliance, which will then require you to set a new SSO password. When this is done, you'll need to plug your new vRealize Appliance 7 key into the appliance for it to work. Reboot again to make sure it comes up clean. Now upgrade the IaaS infrastructure via an installer that can be downloaded from the Web browser. Once this is downloaded, run it as you did when you installed version 6.2. It will run through the wizard and ask several questions; be sure to accept the updated certificates. It will take several minutes to upgrade the setup.
You can now restart the services. I suggest shutting them all down and then restarting to ensure you have a clean boot. Also remember to remove any snapshots you have left in the environment. Upgrading a production environment that follows the best practices will require a lot more effort, and I strongly suggest engaging VMware support services to create an upgrade blueprint for you to incorporate your entire vRealize infrastructure.
Dig Deeper on Creating and upgrading VMware servers and VMs