Evaluate
Weigh the pros and cons of technologies, products and projects you are considering.
Recipe for vSphere shops cooking up software-defined data centers
If you bought into vSphere virtualization, you're on track to virtualize storage and networking for what VMware calls a 'software-defined data center.'
The cloud computing market has become over-hyped, confusing and meaningless to many IT consumers. And the term "software-defined data center" isn't just VMware's way to pronounce cloud computing. Software-defined data centers are the aim of VMware's ever-refined infrastructure cloud strategy for commoditizing network and storage hardware.
VMware vSphere virtualizes physical servers into virtual machines (VMs), and a VM's "hardware" comprises a virtual CPU, virtual RAM, virtual disk and virtual network adapters. Virtual machines are connected to virtual switches and virtual data stores and run on hosts or clusters that are stored in virtual data centers.
In VMware vCloud Director, an additional layer of abstraction is applied and clusters are represented by provider data centers that organizational data centers -- the customers, who could be internal company divisions or external companies if you are a service provider -- use.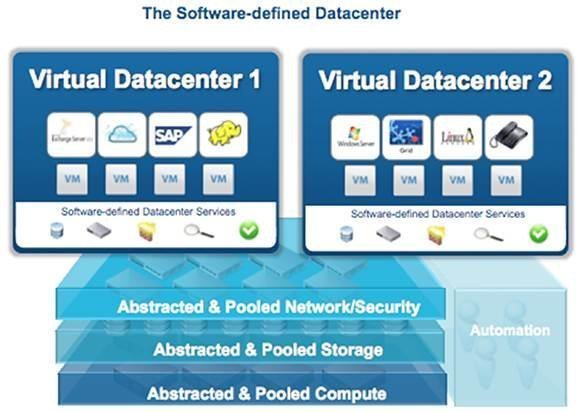 According to VMware Inc., the idea of the software-defined data center, or SDDC, is to abstract the entire data center's hardware into software run on commodity hardware. What matters for you is how abstracting the data center can help IT.
All of this virtualization makes the best use of data center resources; however, virtual networks and virtual storage, all running in software, aren't as advanced as virtualized servers. That's why when you build a virtual infrastructure, the physical hosts are all about commodity resources (i.e., how much CPU and RAM they have), while the storage and networking hardware are advanced and feature-rich.
VMware's software-defined data center vision isn't 100% fulfilled -- even with the latest vCloud Suite 5.1. But SDDC is the "data center in software" vision you'll see from VMware in upcoming versions of its tools.
What is a software-defined data center infrastructure?
The software-defined data center isn't one piece of software that you download and install. There is no VMware SDDC OS.
It is, however, primarily fulfilled by VMware Cloud Infrastructure Suite, which includes the following:
VMware vSphere ESXi hypervisor running on each physical host;
VMware vCenter Server for host and VM management, most likely running on a VM with the Windows OS (at least today);
VMware vCloud Networking and Security. Much of this is what was called vShield, with enhancements to the point of providing basic network load balancing, stateful firewall and static routing;
VMware vCenter Site Recovery Manager (SRM) for disaster recovery protection;
VMware vCloud Director Web-based self-service portal for virtual organization/virtual data center administration, including secure multi-tenancy and a VM application catalog for fast deployment; and
Free VMware vCloud Connector virtual appliance, which runs in the vSphere infrastructure and connects a vSphere or vCloud Director private cloud to a public vCloud provider.
On top of cloud infrastructure, VMware offers cloud management: the vCloud Automation Center, the vCenter Operations Management Suite and the vFabric Application Director.
VMware's public cloud product is vCloud Powered Services. With vCloud services, you can use the public cloud (or public SDDC) and create a hybrid cloud (connecting your private software-based data center to the public cloud) or use other services such as Disaster Recovery as a Service or hosted SRM.
Evolving to software and commodity hardware?
SDDC isn't a specific VMware product, so the question is, do you buy into the software-defined data center vision. If you bought into the vSphere virtualization vision, you'll likely stay on that track and go with SDDC.
As with virtualization, the software-defined data center will allow you (and your company) to be more efficient and agile, fulfilling the dream of IT as a Service. However, there is a price tag associated with purchasing, deploying and administering what is, today, a complex software-based solution.
Decide if there is an overall return on investment for your IT shop from implementing the complete software-based data center vision. Even if today isn't the right time for your company to implement VMware's complete vCloud Suite for SDDC, use VMware vSphere at whatever level your company can afford and justify it. Implementing the free vSphere hypervisor (ESXi free) could be the first step toward the software-defined data center vision.
Figure provided courtesy of VMware Inc.
Dig Deeper on Selecting storage and hardware for VMware environments