Andres Rodriguez - Fotolia
Evaluate
Weigh the pros and cons of technologies, products and projects you are considering.
Significant updates accompany VMware Workspace ONE announcement
Along with VMware's announcement of Workspace ONE, there were new versions of AppVolumes and Horizon announced plus a new hybrid mode for Horizon Air.
In early February 2016, VMware held an online event to talk about how its vision of "One Cloud, Any Application, Any Device" can help enable the digital enterprise from the data center and cloud to desktop and mobile devices. Over two days, VMware launched a number of updates to its product portfolio.
First up was the Digital Workspace event, which focused on how VMware can help companies deliver a secure digital workspace from within the new model of IT.
The 'digital workspace' is what VMware wants end users to be attached to, rather than the device it's running on. The goal is being able to access the same information and workspace securely from anywhere.
VMware Workspace ONE was one of the new platforms launched, encompassing a new version of Horizon, AirWatch and Identity Manager. It covers desktop, mobile, application and identity management, providing a consumer experience where users have self-service access to their applications across all devices. Yet it also provides IT a more efficient and simplified way of managing users, devices and applications, not to mention more control over who has access and the ability to secure that data.
In reality, it's more than just a branding exercise bringing together everything that VMware does in the end-user space under a single platform. VMware Workspace ONE adds new and richer feature sets including a new form of mobile single-sign on (SSO).
With more people entering the age of the "digital workforce," companies are looking at ways to better enable their employees, giving them the flexibility, agility and security to let them work wherever they choose. The "digital workspace" is what VMware wants end users to be attached to, rather than the device it's running on. The goal is being able to access the same information and workspace securely from anywhere.
Sanjay Poonen, executive vice president and general manager of End-User Computing, made it quite clear.

"In the mobile cloud era, employees, devices, applications and data increasingly live beyond the physical walls of the workplace, the data center, or the network," Poonen said. "Digital enterprises are struggling to deliver a unified digital workspace due to disjointed technology and teams. We are proud to be the first to bring together identity, device management and application delivery on a single integrated platform so business can be conducted by mobile end-users regardless of platform, location, device or application."
These issues are what VMware hopes to address with Workspace ONE. It believes its new IT model will allow companies to engage their employees to increase productivity whilst also offering them the mobility to work from wherever they wish, and the flexibility to choose their device.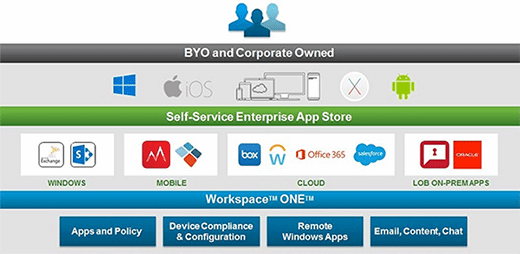 There are a lot of new features and options, as well as new versions of products released by VMware in February 2016.
VMware Horizon 7 now includes 'Just-in-Time' desktops (Instant Clone), which now allows virtual desktops to be quickly spun up from a parent VM. Instant Clone shares the parents' disk and memory, which is why it's so fast to instantiate -- each child VM will have its own delta. With this technology, you can now deploy and update images almost instantly without recomposing them; you simply update the master/parent VM, and the next time a user starts up his machine the changes are there. Blast Extreme is the latest iteration of VMware's own display protocol -- sitting alongside PCoIP and RDP -- it is a mobile/cloud-optimized protocol that will offer amazing graphical performance for a VDI across several devices but doesn't impact network or CPU utilization.
Identity Manager's enhanced integration with AirWatch means users can share a single Active Directory connector. This turns Identity Manager into a global authentication tool. Identity Manager provides secure access to corporate applications across all devices and SSO experience to cloud applications, where a single self-service portal allows access to all applications -- like an App Store.
AirWatch 8.3 is designed to support VMware Workspace ONE, which will allow users to access any application, whether it's native, remote or Web. The new version provides access through a single application catalog across every device. Users can access the apps without a password or PIN by leveraging an industry-first SATS, or secure app token system. SATS was developed to enable true SSO across cloud, desktop and mobile native applications. Once authenticated, a user gains instant self-service access to a personalized enterprise application store where he can subscribe to virtually any mobile, cloud or Windows application.
AppVolumes 3 is enhanced to provide Application Lifecycle Management at a granular application level while still delivering the benefits of application layering. AppToggle is a new feature that lets you deliver single applications to a user from an AppStack that could contain multiple applications -- which IT may have grouped together to deliver to end users -- as opposed to delivering the entire AppStack. AppCapture with AppIsolation is a new feature that easily captures and updates applications to simplify application packaging, delivery and isolation, enabling IT to distribute AppStack creation to different teams and merge AppStacks for simplified delivery and management. Unified Administration Console offers a single pane of glass across application management, user environment management and monitoring. AppScaling with Multizones enables you to replicate AppStacks across multiple sites.
Formally known as Project Enzo, Horizon Air with Hybrid Mode offers a new capability to provide customers with a single, cloud management plane for delivering and managing on-premises virtual applications and desktops on hyper-converged infrastructure (HCI) or VMware Virtual SAN ready nodes. All management components will reside within Horizon Air, with IT deploying HCI or VSAN ready nodes in their own data centers connected to the Horizon Air via the Hybrid Mode service. IT admins then connect to the cloud service to manage desktop pools, and users connect to it as their broker.
In summary, VMware has unveiled a product in Workspace ONE that will help deliver digital workspaces with consumer simplicity and enterprise security, helping to enable a more effective mobile workforce and allowing businesses to be more agile in a highly competitive market.
Next Steps
What is VMware Workspace Suite missing?
App access is one perk of the VMware Workspace Suite
AirWatch, Horizon 6 come together in VMware Workspace Suite
Read SearchVMware Advisory Board predictions for VMworld 2016
Dig Deeper on VMware Workstation, Fusion and Player