Starting out with VMware vSphere Hypervisor 5.1
VMware vSphere Hypervisor 5.1 is a free way to start out with virtualization. Installation comprises two elements: ESXi and the vSphere Client.
When you're starting a small-scale virtualization project with a few hosts, VMware vSphere Hypervisor 5.1 is a smart free option with low hardware requirements. Installation is a straightforward process that starts with ESXi and then the vSphere Client to manage ESXi.
The vSphere Hypervisor virtualization platform is based on the same hypervisor -- ESXi -- as VMware's enterprise-class vSphere and vCloud virtualization tools.
Hardware requirements
Before installing ESXi, make sure that you have at least one server on which to install vSphere Hypervisor. To set up vSphere Hypervisor 5.1 for a real virtualization environment, you'll also need:
A large disk or connection to a storage area network for storing the VM disk image files.
At least two gigabit network interface cards.
Lots of RAM. The exact amount depends on how many VMs you want to install, but make sure that you have at least 8 GB of RAM available at the outset.
A modern server-grade CPU that has virtualization extensions (these are found on almost any recent server-grade CPU).
You can test out vSphere Hypervisor with less infrastructure. For trial purposes, the minimal hardware requirements are 2 GB of RAM and 40 GB of disk space. Of course, you won't be able to run large Windows VMs on top of that.
Installing VMware ESXi
VMware offers vSphere Hypervisor as three software packages to download from the VMware website. Burn the ESXi 5.1 ISO file to a CD and keep the other two software files on your workstation. You'll need them later.
Install ESXi on a server by inserting the ESXi CD into the server disk drive and booting your server from the optical drive. The ESXi boot menu will show. From this boot menu, select the ESXi standard installer (see Figure 2).
It will take a while for the ESXi installation program to load -- up to a couple of minutes. Once all the required software has loaded, the Welcome to the VMware ESXi Installation screen will appear (see Figure 3).
To acknowledge the license agreement, press the F11 key. You'll now see an overview of all the storage devices that the installation program found. If any remote storage was attached, it will list local and remote storage (see Figure 4). Without a SAN connected, just select the local storage device.
Specify which keyboard layout you prefer, then set the password for the ESXi administrator user. The name of this user is "root." Note this password; you'll need it to manage the host machine later. With the F11 key, confirm again that you want to start the installation, then wait a few minutes as a small disk image is copied over to the server hard drive. Once the VMware ESXi installation completes, the server will reboot and load ESXi.
After booting completely, the ESXi server shows which IP address it is using. Note this address so you can use it to manage the ESXi host.
Installing vSphere Client
With the ESXi server installed, you need a Windows client on which to install the vSphere Client management program. On the Windows client, start a browser and connect to the ESXi server's IP address. Ignore the certificate warnings that will display when you make this connection, and select "Download vSphere Client."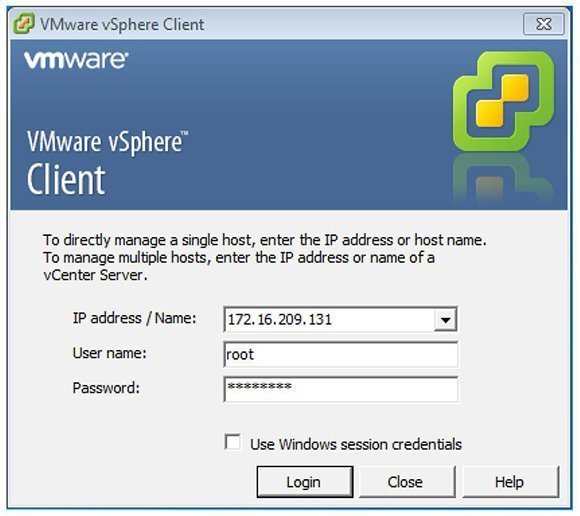 Figure 5. You'll need your ESXi host server's IP address, user name and password to log into vSphere Hypervisor.
The vSphere client installation package will download from the VMware website. Run it to start the installation, and keep all default settings. Once installation completes, a vSphere Client icon will appear on your computer desktop. This is where you will access the vSphere Client login screen. To log in, enter the IP address of the VMware ESXi host, the username root and the password that you specified while installing ESXi (see Figure 5).
You now most likely will see a certificate warning, which, again, you can ignore. Connect to the ESXi host, then assign a license to it in the VMware Evaluation Notice window. License keys are available on VMware's website. This is the final step of vSphere Hypervisor installation.
More on free VMware virtualization
Build a free environment around vSphere Hypervisor
Is it less expensive to pay for VMware vSphere?
The foundation blocks of VMware virtualization