Problem solve
Get help with specific problems with your technologies, process and projects.
The benefits of VMware ESX performance monitoring with Veeam Monitor free edition
Third-party performance monitoring tools like Veeam Monitor can expand the functionality of VMware ESX or ESXI. Veeam Monitor free edition is a true client/server application and is scalable for larger environments.
With all the third-party VMware ESX performance tools available and their varying degrees of functionality, it can be difficult to choose which one to use. In this tip, I'll explain why you need a third-party performance tool, what Veeam Monitor offers and my experience with the tool.
Why use a third-party performance monitoring tool?
With VMware's all-encompassing virtualization offering, some may question why third-party tools are necessary. I'm a big fan of third-party tools (especially free third-party tools) because they can present information in different formats, answer questions and provide additional functionality that VMware ESX Server and the VMware Infrastructure (VI) suite do not. And using third-party tools is something that system admins need experience with for any operating system or virtualization platform, such as VMware ESX Server.
More specifically, you want to use a third-party performance tool with VMware ESX Server/VI Suite for the following reasons:
You want additional historical information than VMware ESX provides (going back more than one year).
You would like modeling and what-if performance scenario information. What, for example, would happen if I swap an ESX host for a new host with more CPU and RAM? What would happen if I migrate this VM guest to a higher-performing disk array?
You want a more holistic view of performance, including not only your ESX hosts but also your storage, network and applications.
You want a performance management system that is able to manage not only the performance of virtual servers but also the performance of nonvirtualized servers.
What is Veeam Monitor?
Since 2006, Veeam has offered virtualization tools . Originally Veeam was known mostly for its free FastSCP and Reporter products. Today, it's more noted for Veeam Backup and Veeam Monitor offerings and its acquisition of nworks.
Last month, I received an email stating that Veeam was offering a free holiday gift. That gift turned out to be a free, scaled-down version of the Monitor performance monitoring tool. While it was initially marketed as a holiday gift, Veeam has made its new Veeam Monitor free indefinitely.
Before I discuss what Veam looks like, I want to outline what Veeam Monitor offers.
Real-time performance monitoring
Performance analysis
Performance alerting
Statistics gathering using VMware's application programming interface (API)
A true client/server application
Support for ESX and ESXi
I have recently evaluated several virtualization performance tools, and what immediately catches my eye about Monitor free edition is that it uses the VMware API and supports ESXi. Numerous other products offered as virtualization performance management tools are actually Simple Network Management Protocol (SNMP) network monitoring tools that have been modified to gather stats from VMware ESX servers. The downside is that they cannot support ESXi, as ESXi doesn't offer SNMP reads (only sending traps). With the VMware API, Veeam Monitor can do a lot more than any SNMP-based tool. But SNMP tools can manage performance of just about any SNMP device, whereas Veeam Monitor monitors performance of only VMware ESX/ESXi hosts.
Veeam Monitor free edition experiences
I registered, downloaded and ran the installation for Veeam Monitor free edition. Because it includes SQL Express, it may be larger than other free performance tools you have used, at about 100 MB.
Figure 1: Full or client-only installation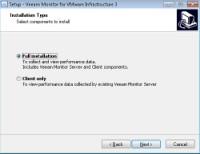 Click to enlarge
The fact that the product offers a choice between the full server and client install or the client-only install is attractive. This shows that Veeam Monitor is a true client/server application.
Figure 2: Choice of installing local SQL Express or using an existing server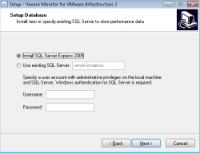 Click to enlarge
It's also a plus that I could either install SQL Express or use my own already-installed SQL Server. The fact that the back end is SQL indicates that this application has a strong back-end infrastructure (unlike many other free applications).
Figure 3: Scalability options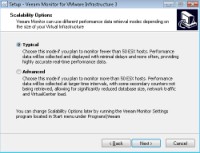 Click to enlarge
In addition, you are given scalability options for monitoring either fewer than 50 or more than 50 ESX hosts, which indicates that Veeam Monitor is enterprise ready.
Installation was easy but time-consuming because of the inclusion of SQL Express. Once I installed it, I ran Veeam Monitor and clicked Add VCM to tell Veeam Monitor to connect to my Virtual Center server.
To do so, I simply filled in the host name and the credentials, as seen below.
Figure 4: Connecting to a new Virtual Center server from Veeam Monitor


Click to enlarge
Again, compared with other free virtualization performance monitoring tools, Veeam Monitor has an advantage because it can connect to VirtualCenter (now vCenter) and gather information and statistics about all the ESX/ESXi hosts.
What can Veeam Monitor do for you?
Veeam Monitor can:
Provide a summary of each of your ESX hosts: manufacturer, CPU, RAM, disk, networks, processing, VM guests, events and more
Provide performance information for the entire virtual infrastructure, VirtualCenter server, virtual data center, resource pool, ESX hosts and each VM guest. This performance information includes -- at each of these infrastructure levels -- CPU, memory, networking, disk, swap, top VM guests utilizing each of those areas, alarms and events.
Let's look at some of these features.
In Figure 5, you see that I can run a graph of memory utilization (active, ballooning, shared, overhead and consumed) for all ESX hosts in my virtual data center over the past 24 hours. Similar graphs are available at just about every level of the infrastructure for CPU, disk, network and swap. I was able to do this for the past hour and past 24 hours. However, I discovered that with the free version I could graph any historical information for the past week, month or year.
Notice the checkbox in the graph that says Display Known Events. This is a useful feature because it marks ESX/VI events on the graph so you can see an event's impact on performance (event correlation). So, if you initiate Storage VMotion or VMotion, you can see when it happened on the graph so you will know the effect on your CPU, RAM, network and disk performance.
Figure 5: Memory utilization for the VMware virtual data center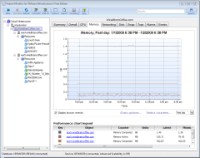 Click to enlarge
In the next graphic, you can see how I can quickly find the VM guests that are using the most (the top) CPU, memory, disk, network and swap on the ESX host selected.
Figure 6: Top utilization of VM Guests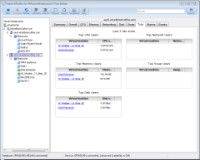 Click to enlarge
Another attractive feature of Veeam Monitor is that it offers full-featured alerting via email (which could also go to SMS text) or SNMP traps. I was able to add new alarms even in the free version.
Figure 7: Veeam Monitor alarms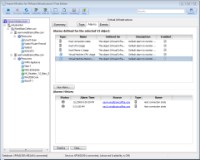 Click to enlarge
All ESX host and VM guest events are also available in the events tab at each level of the virtual infrastructure. You can even create alarms based on those events.
While using Veeam Monitor, there were a couple of areas that I was told I could not use. Modeling wasn't available, trending wasn't offered, I couldn't see performance for a week or more in a graph, nor could I run reports. Here is what I saw when this happened:
Figure 8: Veeam Monitor full version offerings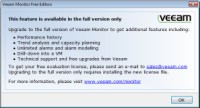 Click to enlarge
Still, this free application offers so much functionality. Compared with other free applications, you would think that Veeam would charge something -- even a few thousand dollars -- for this limited functionality. For me, the free functionality provides all I need in a modest (five to 10 ESX hosts) environment. I would, however, spend the money to move to the full version to gain the extended historical performance graphing and reporting.
One final cool feature is the ability to access a virtual machine's console in a console tab for each VM guest, like this:
Figure 9: Console access to VM guests from Veeam Monitor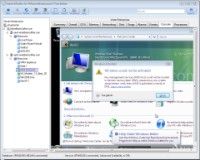 Click to enlarge
Conclusion
Veeam is smart to release a free edition of its monitoring tool, especially now that many companies have begun to use virtualization monitoring. When evaluating a virtualization monitoring tool (especially a free tool), you have to be careful to understand what you're getting and how it compares with other offerings. I believe that Veeam Monitor free edition is a cut above other free virtualization performance tools because it uses the VMware API, supports ESX and ESXi, is a true client/server application, can correlate events with performance data and it is scalable to large environments. To try Veeam Monitor, visit the Veeam Monitor free edition website.
ABOUT THE AUTHOR: David Davis (CCIE #9369, VCP, CWNA, MCSE, CISSP, Linux+, CEH) is the director of infrastructure at Train Signal Inc. He has written hundreds of articles and six video training courses, including the Train Signal VMware ESX Server video training series. His websites are Happy Router.com and VMwareVideos.com.