Manage
Learn to apply best practices and optimize your operations.
The best VMware backup options in the cloud
Cloud-based storage and backup options for vSphere are low-cost and readily available. Check out the five best VMware backup options in the cloud.
That Microsoft commercial you've been seeing may tell you to take anything IT-related "to the cloud." But, remember,...
Continue Reading This Article
Enjoy this article as well as all of our content, including E-Guides, news, tips and more.
it's OK to be cautious. Nevertheless, sending your company's data to a provider for cloud-based backup has several advantages, so keep an open mind as well.
Taking your company's backup data to the cloud can be a scary proposition. We aren't talking about just using a public infrastructure cloud for test and development or photo uploads. With virtualization backup, if your company suffers a disaster or needs to recover a critical file for a multi-million-dollar lawsuit and the data isn't there, you might be looking for a new job.
Though backup has been done for as long as your company has had computers, cloud backup is relatively new. Typical concerns with cloud-based backup solutions are summed up in the security acronym CIA: Confidentially, Integrity and Availability. Will data be breached and made available to malicious attackers? Will data be modified without my permission and, if so, will I know about it? Will the data be there when I need it and can I move it back to my company's data center?
Aside from the valid Confidentially/Integrity/Availability concerns, vSphere virtualization admins must wonder if cloud backups will be there when they are needed. Can the IT shop get the data back quickly from a cloud backup provider? Depending on your bandwidth, the cloud services provider's bandwidth, the number of servers to be restored and the size of the data, restoring servers may take a long time. But it could also take a long time to get boxes of tapes back from off-site storage and restore them. You must test ahead of time to meet agreed-upon recovery time and recovery point objectives (RTO and RPO).
Cloud-based backup providers offer a number of benefits. The best VMware cloud backups eliminate the need to deal with tape backup or the cost and worry around shuttling data off-site physically. Data is kept "online," accessible for browsing and on-demand restore. Online data enables features such as virtual labs and automatic backup testing.
Those are some common concerns around, and benefits of, cloud backup. If you're ready for cloud backup, here's how to back up VMware vSphere to the cloud, and the best VMware backup options available in the cloud space.
Best VMware cloud backup options
Numerous cloud-based backup tools, such as Carbonite backup, use an agent and can back up any server -- physical or virtual. (Those backup tools are not on this list because they don't recognize the vSphere infrastructure and aren't true virtualization backup tools.)
There are various ways to back up vSphere to the cloud. Virtual appliances on vSphere hosts can send virtual machines (VMs) on your data stores to the cloud. You can store VMs in virtual appliances that automatically send data to the cloud. Replication services are available for VMs that also perform backup. And virtualization backup tools that you may already be using can back up your VMs to the cloud.
1. Virtualization backup tools that back up to the cloud. Some backup software talks just to a single cloud provider; other backup software applications (like Veeam, see Figure 1) can talk to a long list of providers. You want the option to select the lowest-cost cloud storage. If your current virtualization backup tool cannot back up VMs to the cloud, suggest that functionality to your backup software provider.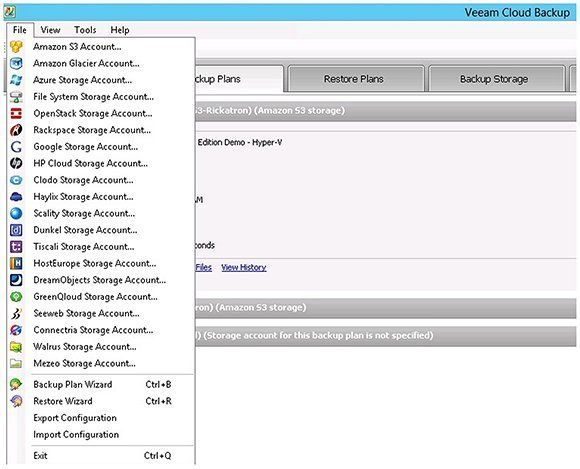 Figure 1. Veeam Backup and Replication -- Cloud Backup is one option for virtualization backup that talks to various cloud backup providers.
These are some virtualization backup tools that can send your VM backups to the cloud today:
2. BUaaS/DRaaS cloud providers. Nearly all public cloud providers offer managed backups for your public-cloud VMs, but most of them also offer these cloud-based Backup as a Service (BUaaS) or Disaster Recovery as a Service (DRaaS):
3. Replication-based cloud backup solutions. While DR replication isn't the same thing as backup, it does get the data offsite. It may, however, cost a lot more to do so. Numerous replication tools, such as VMware's Site Recovery Manager, can replicate to cloud provider partners:
4. SAN or virtual appliance storage-based cloud options. These hardware- and software-based storage options can send VMs from the storage area network/network-attached storage (SAN/NAS) to the public cloud automatically:
5. Amazon cloud. You have a cool option to back up vSphere VMs to the Amazon Simple Storage Service (S3) cloud at no cost, at least for the tool. You'll install the Amazon s3cmd utility on your ESXi hosts, which allows you to send VMs to the Amazon s3 cloud.
Get used to cloud backup
Increasingly, backup, storage and data protection product vendors are offering cloud-based storage options for your data. VMware vSphere admins must learn how to back up VMware virtual infrastructures with the cloud, including testing these various setups. Cloud-based storage and backup options for vSphere offer low-cost, readily available data protection choices to VMware-based IT shops. If your backup tools don't support cloud storage, consider alternatives that do.
Dig Deeper on Backing up VMware host servers and guest OSes