Problem solve
Get help with specific problems with your technologies, process and projects.
Try vFabric App Director: A VMware cloud application platform
VMware vFabric Application Director could help you deal with increasingly complex apps in increasingly complex virtualized and cloud infrastructures.
While nearly all VMware administrators have great virtual infrastructures, most don't have a cloud. If you fall into this category, you may be wondering if you need VMware vFabric Application Director, part of VMware's cloud application platform.
Haven't heard of vFabric App Director? Until recently, neither had I. Released in December 2012, vFabric App Director is VMware's answer for automated application provisioning.
Applications and the virtual infrastructure
VMware vFabric Application Director is all about application provisioning and release. Cloud computing is part of the infrastructure mix at many companies. The rise of cloud computing and multi-tiered applications combined complex applications with complex infrastructures, and provisioning got tricky. VMware virtualization only serves its purpose if applications run better on it, or at least as well as they did on the physical infrastructure. VMware created vFabric App Director to ensure that these apps work. Remember, vFabric App Director isn't a virtual infrastructure management application, but rather an application management platform.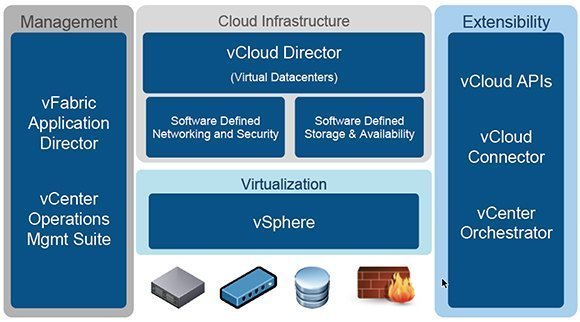 We aren't talking about MS Office, Angry Birds or Web browsers: Think ERP, e-commerce and other tier-1 critical enterprise apps. Today's economy is supported by critical banking, retail, entertainment, medical and other service applications. VFabric is designed to keep those applications running. Since apps have changed -- and become more prevalent -- you need more tools to support their crucial, complex, enterprise-level functionality. The VMware vCloud Suite relies on vFabric App Director for management, in tandem with VMware vCenter Operations Manager.
VMware vFabric Application Director's toolbox
Beyond virtualization administrators, vFabric App Director helps application, quality assurance, data base, and development teams through the application provisioning and monitoring process. You'll use a drag-and-drop interface within vFabric.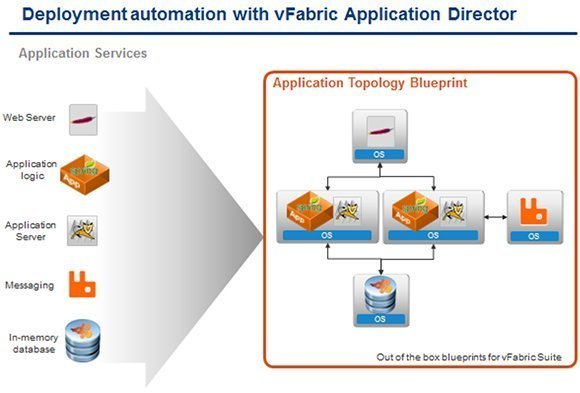 VMware vFabric Application Director offers reusable application components and virtual machine templates with pre-installed applications for easy, flexible provisioning. It encourages fully automated application development. VFabric App Director's application deployment topologies help users model and deploy applications across complex and dynamic hybrid infrastructures. It also boasts troubleshooting technology for app deployments. Application management and monitoring comes from VMware's integration of Hyperic software.
Test drive VMware vFabric Application Director
The VMware cloud application tool requires more infrastructure and software than you may anticipate:
VMware vSphere 5 or higher with an Enterprise or Enterprise Plus license;
VMware vCenter Server 5 or higher;
VMware vCloud Director (vCD) 1.5, 1.5.1 or 5.1;
One of a few vCD-supported Linux OSes;
Microsoft Windows Server 2008 Enterprise R2 SP1 (for use with vCD).
VMware offers a 60-day evaluation version of each of these products, if your current infrastructure doesn't meet the requirements. Download vFabric Application Director for a 60-day trial run as well, deploying the tool as a vApp from the vCloud Director Web interface. Create a separate organization for vCloud Director from vFabric App Director.
Who supports vFabric App Director?
VMware grouped its vFabric platform products with EMC cloud application tools, forming The Pivotal Initiative.
With all the pieces in place, go into the vCloud Director Web interface and deploy an OVF file. This OVF will create the vFabric App Director vApp with the vFabric App Director VMDK that you also downloaded.
Depending on your serial number, you can access either vFabric Application Director for provisioning edition (basic features) or vFabric Application Director for Release Automation edition. The Release Automation edition combines basic provisioning features with the ability to update a deployed application as well as deploy applications to the Amazon EC2 public cloud.
To use vFabric App Director, register a cloud provider and template, create the deployment environment in the cloud, then fill the catalog. This will include templates, services, custom tasks, OSes and tags. Now you can create and deploy applications, and manage deployed apps.
Who needs VMware vFabric Application Director?
VMware vFabric App Director helps blueprint complex multi-tiered applications, deploy these applications across complex hybrid infrastructures and then monitor application performance over time. It is not for small and medium-sized businesses. Nor should companies consider the cloud application tool unless they deployed or plan to deploy VMware vCloud Director.
Enterprises using a vCloud private cloud should evaluate vFabric App Director, as should those that are connected to a vCloud service provider or Amazon EC2. For these enterprises, IT will use vFabric as a platform for active application management and reusable application designs, encouraging proactive infrastructure management, collaboration between teams, agility and expense reductions.
All images courtesy of VMware Inc.