Two methods for accessing VMware ESX data stores
VMware ESX data stores can provide quick access to ISO images, FLP files and more. Learn two different ways of accessing and managing the ESX data stores with this tip.
There are a number of benefits to understanding VMware ESX Server data stores. For instance, administrators can...
Continue Reading This Article
Enjoy this article as well as all of our content, including E-Guides, news, tips and more.
add whatever files they choose to data stores, including ISO images of any operating systems they might plan on running in the virtual infrastructure and any FLP files they might need as drivers. In this tip, I'll discuss how to access and view data stores.
Data store basics
All new VMware ESX Server guest virtual machines (VMs), ISOs, and FLP files are stored in a data store. A data store can reside on the local disk of an ESX Server, or they could be on a storage area network (SAN). They can be accessed by either the VMware Infrastructure Client (VI Client) or by the Web interface.
The most common option is to access the data store through the VI Client. It may not seem immediately obvious, but to browse the data store in a VI client just click on an ESX Server, click on the Summary tab, look on the right-hand side at the Data store section, and double-click on one of the data stores. For example:
If I click on data store Storage1(2), it would bring up the data store browser for that local VMware ESX disk storage, like this:
In this graphic, I am browsing the root of this data store. There are folders for each of the two VMs on this server. In the root of this folder are other files that I have put in the data store. In this example, I added the Mitsui CD-ROM drivers and the SCSI drivers needed to load certain operating systems. I have added ISO files for Windows XP and another application that I installed on a virtual server in this "farm."
From here, there's a lot more that I can do. If I right-click on the toolbar, I can select to have text explanations for each button, like this:
With the text labels, you can see exactly what you can do with the data store browser. Here's a summary of the main options:
Register VM – If you have uploaded a VM to the data store that isn't currently registered with this VMware ESX Server, you can register that VM with the data store browser by clicking on the VMX file for that VM.

Go to Folder – Go to a specific folder.

New Folder – Create a new folder.

Upload – By using the upload function, you can transfer any type of file you want from your local PC to this VMFS data store. You can upload either a single file or an entire folder.


Download – I can download any file in the VMFS data store to my local PC by selecting a file and clicking Download.

Move, Delete, Refresh – Moves a file, deletes a file, or refreshes the data store browser.
The best features here are the Upload and Download options that allow you to move files in and out of the VMFS data stores.
Another way to view datastores within the VI Client is to click on the Data store Inventory.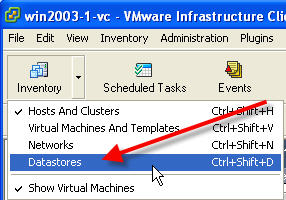 From there, you get an inventory of data stores that VirtualCenter recognizes, and you can browse the data stores.
Web-based data store browser
While it has much less functionality, you can browse and download files in the VMFS data store by pointing your Web browser to either an individual ESX Server or your VMware VirtualCenter Server (VC Server). If you go to the VC Server, you can access all of the data stores in the SAN and on ESX Servers that your VC Server recognizes.
In this demonstration, I pointed my Web browser to the VC Server, and clicked on Browse Data stores in the VirtualCenter Server.
After logging in, the VC Server displays all of the data centers that it recognizes. Then, I can see all the data stores (SAN or Local) that my VC Server recognizes.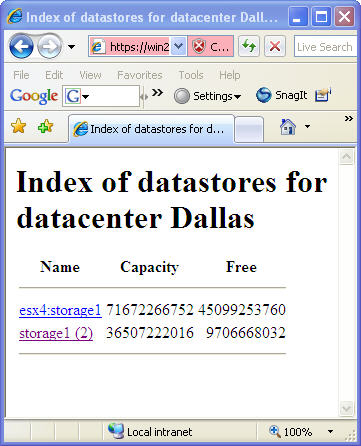 If I click on one of those data stores, I get to see the files in that data store, just as I did in the VI Client.
From here, I can download any of the files in this data store to my local PC.
Conclusion
In this article, you learned what data stores are, what you can store in them, and multiple methods of accessing them. It is crucial that administrators understand VMware ESX Server VMFS data stores. As a side note, while we are focusing on VMware ESX Server in this article, in the new VMware Server 2.0, data stores are now used to store virtual machines, ISOs, and FLP files, just as in ESX Server.
If you were already familiar with data stores, you should have seen some new ways to access them or discovered some new ideas on how to use them.
More on VM data management
ABOUT THE AUTHOR:

David Davis (CCIE #9369, VCP, CWNA, MCSE, CISSP, Linux+, CEH) is the Director of Infrastructure at Train Signal, Inc. He has written hundreds of articles and six video training courses – including the Train Signal VMware ESX Server video training series. His websites are Happy Router.com and VMwareVideos.com.