Problem solve
Get help with specific problems with your technologies, process and projects.
Upgrading Exchange Server? Migrate to ESX
If you're upgrading to Exchange Server 2007, it may be the time to add Exchange to your VMware ESX server farm. Benefits include greater performance and more storage space, but running Exchange as a virtual machine requires specific hardware and can risk service agreements.
Upgrading from Microsoft Exchange Server 2003 to 2007 requires both versions of the servers to be up and running at the same time. Many of us, however, don't have the hardware to make this kind of upgrade. This is an excellent opportunity to virtualize Exchange Server and move it into your VMware ESX Server farm. In this tip, I'll cover what you should take into account before virtualizing Exchange 2007 with VMware ESX Server.
Consider 64-bit architecture for your upgrade
Exchange Server 2007 has some particulars that make the upgrade different from other Exchange Server installations. As already noted above, it requires an in-place upgrade. This means an additional server must be set aside to which you can do a live migration. Also, that additional hardware needs to be a 64-bit server and must have either an Intel 64 or AMD64. Intel Itanium IA64 processors are not supported.
Exchange 2007's 64-bit architecture can address more RAM, and in doing so offers greater performance. According to Microsoft, Exchange Server 2007 reduces the demand on disk storage by about 70%. While Exchange 2003 on a dual-processor system might have put very large demands on the server, with new dual-core and quad-core processors and the architecture changes in Exchange 2007 Server, the idea of a virtualized Exchange server has been made much more attractive.
Although Exchange 2007 Server can run on 32-bit processor, Microsoft doesn't support it. Make sure you review the official Microsoft Exchange Server 2007 hardware requirements for official hardware requirements.
Options for migrating to ESX
Assuming you are already using Exchange Server 2003 and are upgrading to 2007, you will need both your existing and new servers up and running as I stated earlier. The premise of this article is that those Exchange 2007 servers are virtual servers in your VMware ESX data center. Thus, you have a few options when going from your current Exchange 2003 server to 2007 under a virtualized server:
First, you could install a new 64-bit server with ESX Server on it. Then install Exchange 2007 Server as a guest (or multiple guests), then do the in-place migration from the physical Exchange 2003 server to the virtual Exchange 2007 server.
You could also do a physical-to-virtual migration of your current Exchange 2003 server, though it could take a very long time depending on the size of your Exchange mailbox datastore. Then you would install ESX Server on the physical Exchange 2003 server (assuming it was a 64-bit server) and create virtual Exchange 2007 servers. Lastly, you could opt to do the in-place migration from the virtualized Exchange 2003 server to the virtual Exchange 2007 server.
Microsoft support, configuration and other considerations
Once you install and begin using Exchange, it will be very difficult to upgrade the operating system. For that reason, I suggest installing Exchange Server 2007 on Windows Server 2008 to prevent that impending upgrade.
How many virtual Exchange servers will you have? This depends on the demands placed on your Exchange server and how many mailboxes you have. You could have just one Exchange 2007 Server or you could have many. At my company, we decided on four Exchange 2007 Servers:
Exchange CA (Client Access)
Exchange Hub Transport
Exchange Mailbox 1
Exchange Mailbox 2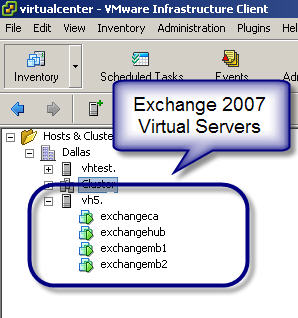 Review VMware's Performance statistics on running Exchange 2007 Server in VMware ESX Server published by VMware's Performance Team – 16,000 Exchange 2007 mailboxes on one server.
What about support from Microsoft? Microsoft will support Exchange 2007 Server only in a virtualized environment if very specific requirements are met. Check out Microsoft Support KB article 897615 and VMware's Virtualize your Exchange Server 2007 for more information on those requirements. The gist of those articles is that Microsoft will not support Exchange Server 2007 on a non-Microsoft virtualization platform unless you have a Premier support agreement.
That being said, we don't have a Premier agreement at my company. We aren't using a Microsoft virtualization solution (we are using VMware ESX). Typically, if you do contact Microsoft for support, they don't ask the hardware platform being used nor do they ask if the server is virtualized. I think that the only time this would come up is if they had to connect to your server, come on site or if there was an issue created by VMware virtualization that caused Exchange 2007 Server to malfunction (which I doubt).
Summary
Thanks to changes in Exchange Server 2007 and faster server hardware, running Exchange Server inside VMware ESX Server is a compelling strategy. Keep a few things in mind, however, when planning this migration process. You will need 64-bit hardware, both Exchange servers up at the same time and know whether or not Microsoft is going to support you. All the best to you in your Exchange 2007 Server upgrade and migration to VMware ESX Server. For more information on running Exchange 2007 Server inside VMware ESX please see the following:
ABOUT THE AUTHOR: David Davis (CCIE #9369, VCP, CWNA, MCSE, CISSP, Linux+, CEH) has been in the IT industry for 15 years. He has written hundreds of articles, six video training courses – including the Train Signal VMware ESX Server video training series. His websites are HappyRouter.com and VMwareVideos.com.

Dig Deeper on Creating and upgrading VMware servers and VMs