Upgrading from VCAP5 to VCAP6 -- and beyond
Once you've earned your VCP, the next logical step is to try to achieve your VCAP in your desired track. There's always a path to upgrade your VMware certification.
The VMware certification roadmap took another turn in the early months of 2016 as the company has made changes to coincide with its release of vSphere 6.
Once you have decided which VMware certification track to pursue, you have taken the required classes and have passed the VMware Certified Professional exam, the next logical step is to upgrade. VMware Certified Advanced Professional (VCAP) makes sense for professionals who possess strong VMware skills.
From VCP to a VCAP in 2016
If you hold a VMware Certified Professional (VCP) certification in one of the four tracks, then you can go for the next level and attempt to become a VCAP6 in one -- or both -- of the two available tracks --Deployment and Design. VCAP has been reinstated with VMware's latest version of certificate changes. If you earn both the Deployment and Design certifications, you will become a VMware Certified Implementation Expert (VCIX).
In Figure A, you can see the path for achieving these levels of certification.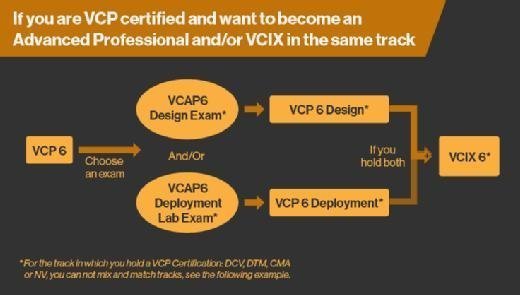 The VCAP6 certification, currently in beta, comes in two flavors: Deployment and Design. The Deployment track -- previously called Administration -- is targeted to administrators who want to display their proficiency in administering a VMware environment. The VCP exams are theoretical, but the exam for VCAP Deployment is a lab-based exam. In the exam, you must show that you actually have the skills needed to set up and manage an environment in your chosen technology track -- Data Center, Cloud Management and Automation, Desktop and Mobility or Network Virtualization.
Don't underestimate the Deployment exam either. It's very broad and requires a skill set and the knowledge needed to work in an actual environment. Also, the fact that you are allowed to spend four to five hours on the exam should tell you that there is a lot of work to be done in the labs. Please note that the allotted time mentioned here is what was posted on the VMware Certification website during the beta phase. You should double check the times once the exams have been released.
The Design exam is also lab-based but with a different exam engine, and includes of course design-related questions. For example, you could be presented a case for a customer with certain requirements and must then set up a logical or technical design for a part of their VMware environment. You might have to create a diagram or another type of drawing that represents your design.
The exam is not about one case; you will be presented several cases -- likely around six to eight -- along with additional questions in different formats. For example, you may have to drag design-phase requirements to VMware features that would fulfill those requirements. The time allotted for this exam, listed in beta, is also four to five hours.
These VCAP exams -- currently in beta-testing, starting in February 2016 -- have no set release date yet. After VMware has some time to make the necessary changes, I hope they will be available by the first half of the year.
When you pass both exams and hold both VCAP titles, you automatically become a VCIX. This is the certification that shows you are one of the best experts in the field and it's also a prerequisite if you want to become a VMware Certified Design Expert (VCDX).
Upgrading your VCAP5 to VCAP6 and becoming a VCIX
Many candidates already hold an existing VCAP certification in either Administration/Deployment or Design -- or maybe both. For those candidates with certifications from the vSphere 5 level, there are upgrade paths available to achieve VCIX status without starting over. Potential candidates will be happy to know there are no course requirements, but there are courses available to help you prepare.
In Figure B, you see the upgrade path for VCAP5 Administration to VCAP6 Deployment. If you hold a VCAP5 Administration certification, passing the VCAP6 Deployment lab exam, in the track of your choice, will upgrade you to VCAP6 Deployment. This upgrade path is the same for each track and the Deployment exam is available in each track. If your certification is expired, you need to attend one of the required trainer courses, complete the vSphere 6 Foundations exam and also complete the VCP 6 exam.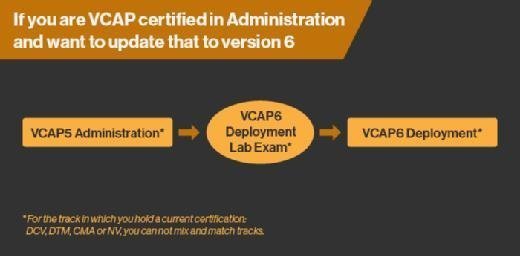 The same upgrade path is available for the Design track. There is one current exception: There is no Design exam for the Network Virtualization track. In this track, that skill is only tested during the VCDX exam. VMware has plans for a specific Design exam in that track for 2016 but availability has not been officially announced.
Now let's say that you hold both VCAP5 certifications -- Deployment and Design -- and want to become VCIX certified; you do not have to take an upgrade exam for both. Instead, if you pass either the Design or Deployment exam, you will be VCIX certified, as shown in Figure C.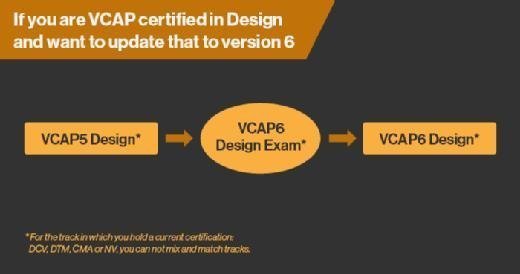 This is also true when you hold just one VCAP5 certification. The combination of either VCAP5 Administration and VCAP6 Design or VCAP5 Design and VCAP6 Deployment will get you VCIX certified, as shown in Figure D.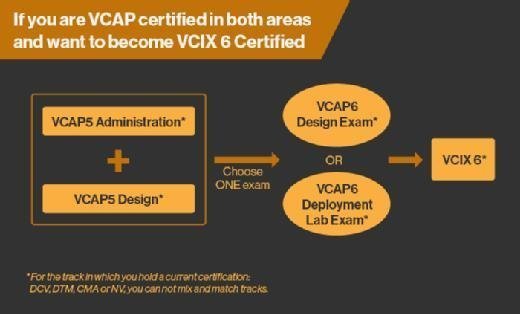 All previous examples of upgrading to VCIX6 were for candidates that stay in the same track. For example, if you are VCP Data Center, you would become VCAP and/or VCIX in Data Center by taking the appropriate VCAP exams in your track. But what if you are already VCP and/or VCAP certified in one track and want to also become an advanced professional in one of the other three tracks? In Figure E, you can see the upgrade path from Data Center to Desktop and Mobility. This path is exactly the same for all other tracks when you want to crossover from one to another.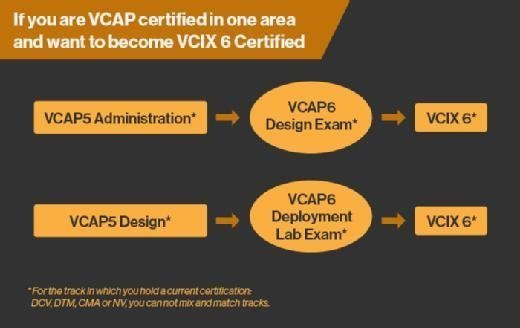 Achieving the highest level
The VCDX certification is the highest level of certification you can achieve with VMware. It is targeted at professionals that have not only created a design for the environment, but also have guided the implementation of that design to a successful end. As mentioned before, VCIX is a prerequisite to achieve VCDX. For this certification, you don't really take an exam, but have to present and defend your design to a panel of other VCDX-certified experts. If they think you know what you are talking about, you will earn the certification.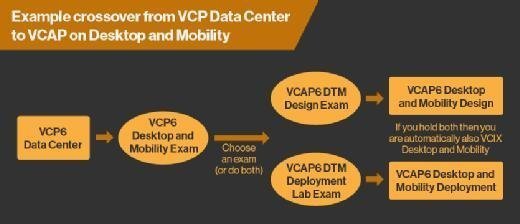 There are currently only 217 people who hold a VCDX certification -- as of March 2016. That proves this certification is not for everyone.
Dig Deeper on VMware Certified Professional (VCP and VCAP)