Manage
Learn to apply best practices and optimize your operations.
Use the VMware Host Client to manage single ESXi hosts
The VMware Host Client is faster and more secure than the vSphere Flash-based client, but it has yet to reach maturity. Here are some other tools you can use to manage ESXi hosts.
The VMware Host Client is an HTML5-based user interface that connects to and manages single ESXi hosts. It manages...
Continue Reading This Article
Enjoy this article as well as all of our content, including E-Guides, news, tips and more.
host resources, including VMs, networking and storage, and troubleshoots individual VMs or hosts when vCenter and the vSphere Web Client are unavailable. Originally developed as a fling by VMware Labs, VMware Host Client is now bundled with each ESXi deployment.
Although VMware Host Client is faster than the vSphere Flash-based client, it's still relatively new and can't manage everything just yet. Bearing that in mind, let's take a look at some other host management tools.
Although VMware Host Client is faster than the vSphere Flash-based client, it's still relatively new and can't manage everything just yet.
The ESXi Embedded Host Client is a native HTML and JavaScript application. The ESXi host serves the Embedded Host Client directly and, as a result, the client performs better than pre-existing offerings.
The Embedded Host Client is included in the ESXi installation ISO as a vSphere Installation Bundle file (.vib). The client has a rapid development cycle, so, you need to update regularly for the most up-to-date .vib, which you can download and install yourself.
To update the .vib file, go to Manage > Packages > Install Update in the ESXi user interface (Figure A).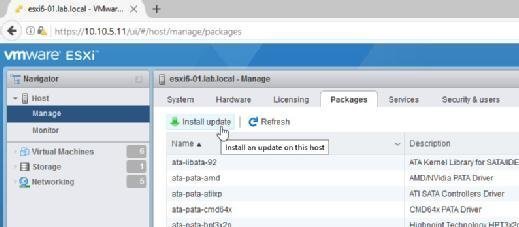 As shown in Figure B, the vSphere Host Client performs all VM operations, such as bringing up a console to connect to an individual VM, powering VMs on, suspending VMs, taking snapshots, consolidating virtual disks and so on.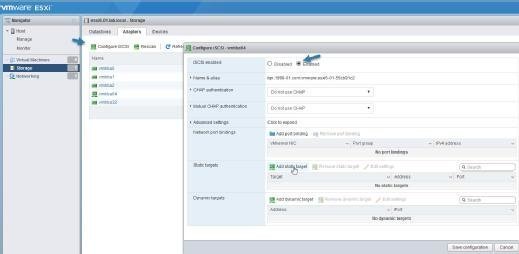 Even if the host is included in the VMware cluster, the VMware Host Client can still change the host's configuration. The client gives the administrator access to just about everything, from advanced host configuration settings to networking settings.

Let's say, for example, you want to configure iSCSI storage -- or at least activate the iSCSI initiator. Select Storage > Adapters > Configure iSCSI and select Enabled from the menu that appears (Figure C).
Then, depending on your environment, add either a static or dynamic iSCSI target to connect to iSCSI storage.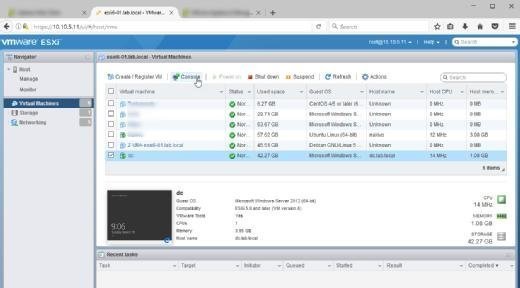 The VMware Host Client is fast -- it doesn't require any web browser plugins because it's pure HTML5 and JavaScript; no Adobe Flash needed. It's also evolving at a rapid rate. VMware is hard at work on both the Host Client and the vSphere HTML5 client, which is currently available, but has limited features.
The goal is to make it so that the entire vSphere infrastructure is no longer reliant on the Adobe Flash plug-in, which is slow and has security vulnerabilities. Future releases of the vSphere HTML5 client will be on par with all functions of the current Flash-based vSphere Web Client.
For individual host management, the VMware Host Client is the future for ESXi. While the Windows-based client still exists, it grows more and more limited with each new release of ESXi. VMware did not include support for the C# client in vSphere 6.5.
Dig Deeper on VMware basics