Get started
Bring yourself up to speed with our introductory content.
Using VMware Boomerang as a mini vSphere Client
Boomerang, a VMware fling, is a pared down vSphere Client for basic VM tasks. It's a neat utility, but it could use a few improvements.
Don't ask me how on earth these things get their names, but VMware Boomerang is one of the latest flings from VMware Labs. This VMware fling, an experimental tool or project posted by engineers, is a pared down vSphere Client that can be used with multiple vCenter servers.
Installing VMware Boomerang
VMware Boomerang is aimed at users who don't need the complexity of the full vSphere Client. It sits in the tray of a Windows client and allows easy access to your favorite virtual machines (VMs). It can also carry out simple virtualization administration tasks such as powering on, off, suspending, rebooting and opening the console window for a VM.
Boomerang is a 6 MB package that is downloaded and installed to your management machine in the tray icon area. When you click on it for the first time, it displays a hyperlink to add a vCenter server (Figure 1).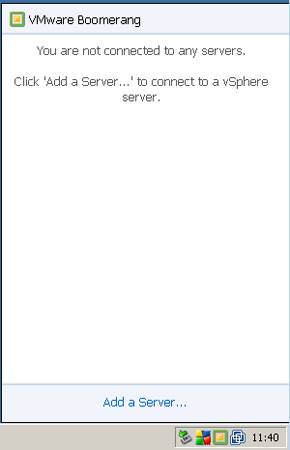 Figure 1
Add a vCenter server to the VMware fling Boomerang.
Adding vCenter servers to Boomerang
To add a vCenter server, type the name or IP address of the server, as well as your username and password. VMware Boomerang stores these credentials locally so you don't need to re-authenticate every time you log in and out. From this configuration, Boomerang builds a list of VMs and allows for the basic power options mentioned earlier (Figure 2).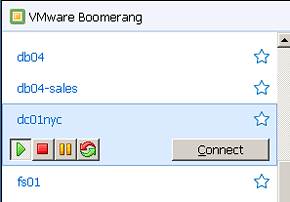 Figure 2
These are the basic power options you can perform with Boomerang.
You can also use Boomerang to open the VMware Remote Console so you can interact with the VM (Figure 3). This functionality appears only when you install the full vSphere Client.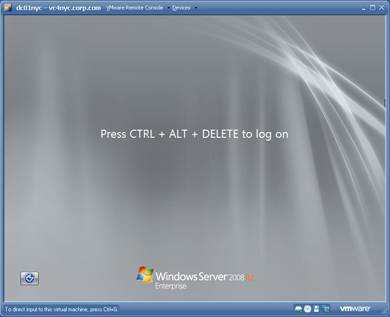 Figure 3
This is the console for a specific VM.
VMware Boomerang also has a favorites option where you can choose the VMs you interact with most frequently and pin them to the main menu. Just click the star icon next to the VM.
Room for improvement
VMware Boomerang is a neat little utility, but it could use some improvements. First, it doesn't report the VM power state with the standard vSphere-like icons. I would also love if VMware Boomerang used pop-up tray notifications (popular in many Instant Messenger clients) for vSphere alarms. That way, when you're busy doing other work, you would be instantly alerted of potential problems or errors.
Finally, rather than just remote console access, it would be nice if VMware Boomerang offered shortcuts to Microsoft RDP Access and SSH to open a window on Microsoft and Linux VMs.
Boomerang is a VMware fling I'll definitely keep my eye on. Who knows -- perhaps one day I'll be able to use VMware Boomerang to monitor my virtual infrastructure and tweet at the same time.
More on VMware flings
VMware Labs: Tinkering in VMware's test and dev kitchen
VMware users hope PXE Manager isn't just a fling
VMware manages Hyper-V with XVP fling