Using VirtualCenter maps to display VMware Infrastructure relationships
The mapping feature in VMware VirtualCenter allows you to visually present your virtual infrastructure in a variety of ways. An expert explains how to better navigate your infrastructure and get the most out of this feature in this tip.
VMware VirtualCenter's mapping feature does much more than create pretty pictures. This feature allows you to not...
Continue Reading This Article
Enjoy this article as well as all of our content, including E-Guides, news, tips and more.
only create a graphical representation of your infrastructure, but also illustrates the various relationships between you and your virtual data center components. In this article, I'll explain what VMware Infrastructure Client maps are, their features and how they can help you.
What is the VMware VirtualCenter mapping feature?
On the main toolbar of the VMware Infrastructure client (VI Client) is the Maps button. Click on this button, and you will see a map of your VMware Infrastructure. These maps can be accessed by either pointing the VI Client to an individual ESX Server, or to the VirtualCenter Server.
Your map may be as simple as this one:
Or as complex as this one:
Though it may seem obvious, there are several benefits associated with this map. First, it provides a graphical overview of all host, virtual machine (VM) guest, network and datastore resources. It also provides a graphical relationship between all of the previously mentioned resources, while offering point and click connections to hosts or VMs shown on the map by simply double clicking on a host or VM guest to be taken to it. Additionally the mapping feature gives you the ability to print the map shown, or export the map shown to a JPG, BMP, or EMF file.
Lastly, the mapping feature is equipped with filtering options for the graphical data. You can filter to show the following: Only checked hosts, checked VMs, only datastores, only networks or any combination of those choices -- just check the container that you want to show on the map.
You should note that if you view a map under the "hosts and clusters" folder, a VI data center, or a host server your map will be called Virtual Machine Resources. However, if you view a map with just a single VM, the map will be called VMotion Resource Map.
VMware VirtualCenter mapping benefits
Find out what networks a VM or host has access to by showing only network relationships:
By doing this you can view and troubleshoot which networks a VM or host has or does not have access to.
To see if your ESX host has access to a datastore, you can use mapping to show which datastores can be accessed by your hosts:
In my example, I have a very simple virtual data center with 2 datastores and 2 hosts. From the map, I can see that each host can only access its own datastore.
You can easily document your virtual network by using either the print or export features. Adding a graphic of your virtual data center to a presentation, proposal or infrastructure document will only help to more clearly illustrate the contents of your virtual environment.
With VMware mapping, you can quickly determine which VM guests are on each ESX Server host.
And finally, if you have a huge VMware network (like the large and complex network shown at the start of this article), you can use the overview feature to zoom in and out of your diagram, choosing to show just a small part of your map. Here is what the overview selection tool looks like: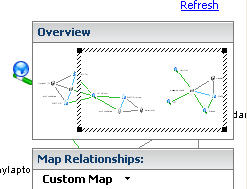 The mapping function is one of the coolest and most visually appealing features of VirtualCenter and the VI Client. The next time your boss asks questions about your VMware purchase, you can up the "ohh and ahh" factor with the mapping feature.
About the author:

David Davis (CCIE #9369, VCP, CWNA, MCSE, CISSP, Linux+, CEH) is the Director of Infrastructure at Train Signal, Inc. He has written hundreds of articles and six video training courses – including the Train Signal VMware ESX Server video training series. His websites are Happy Router.com and VMwareVideos.com.
Dig Deeper on Using monitoring and performance tools with VMware