Problem solve
Get help with specific problems with your technologies, process and projects.
VMware IaaS: Converting from virtualization to a software-defined data center
From vSphere virtualization to VMware Iaas: Read how data centers look before and after the adoption of a vCloud software-defined data center.
Converting a virtualized data center to a software-defined data center enables automation and self-service. In practice, VMware's software-defined data center concept restructures the data center's software and the virtualization admin's role to provide Infrastructure as a Service.
"Software-defined data center" (SDDC) is a generic term that doesn't describe any particular vendor's solution. However, VMware coined the term -- a very new concept and one that is not even fully fulfilled by VMware's current offering. You could implement a software-defined data center with other competitive solutions, but VMware is the only vendor using the SDDC moniker.
VMware's business moves for the SDDC
Nicira adds network abstraction
Virsto for storage virtualization
VMware narrows product focus
VMware says that its software-defined data center concept is different from other cloud offerings, with a focus on Infrastructure as a Service (IaaS). VMware IaaS products stack automation, encapsulation, self-service and cloud interconnectivity atop virtualization to create a software-defined data center.
According to VMware, "software-defined" is the next evolution of data centers, built on a VMware vSphere and vCloud virtual infrastructure. It creates VMware's version of IaaS with private or hybrid clouds.
To demonstrate how SDDC changes a typical enterprise's vSphere infrastructure, let's compare the before and after of an SDDC built with the vCloud Suite. (Skip ahead to part two to see an example of VMware IaaS in action.)
Before SDDC: A typical vSphere infrastructure
With a typical vSphere infrastructure, physical servers run the VMware vSphere ESXi hypervisor managed by VMware vCenter. Most of the management benefits are derived from vCenter's functionality. Advanced vSphere features are determined by which edition of the vSphere suite you license. For example, licensing vSphere Enterprise Plus enables vSphere distributed switches, host profiles and Auto Deploy.
Assuming our sample virtual infrastructure runs vSphere Enterprise Plus and vCenter, here's how its various aspects are managed:
Overall, this vSphere virtual infrastructure is strong and efficient, but all requests for new VMs must go through a bottleneck at the virtualization admin, who uses a template library (assuming they've made one) to create each one. The virtual infrastructure is a shared container where various company departments and divisions all contend for access to resources. Because all virtual resources are shared across the entire business, the virtualization admin controls all provisioning, resource control, network security and capacity management.
After SDDC: A virtual data center IaaS offering
The VMware software-defined data center vision is "everything virtualized and everything delivered as a service through automated data center management software," said Pat Gelsinger, CEO of VMware, at VMworld 2012 in San Francisco.
The SDDC builds on vSphere Enterprise Plus and vCenter, adding tools from vCloud Suite and other VMware products: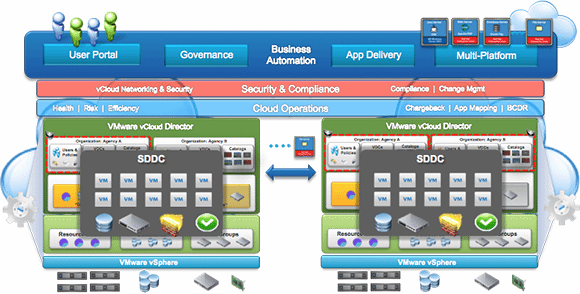 Figure 1. The VMware vision for a software-defined data center includes vCloud Director and vSphere with many additional tools.
Essentially, this additional software evolves a virtualized infrastructure into a VMware-supported IaaS offering.
With the vCloud Suite in place to create a VMware software-defined data center, the virtualization admin can make use of HA and DRS clusters, storage, and networking to create one or multiple provider virtual data centers (pVDC). Those pVDCs are usually tied to particular service-level agreements (SLAs) within the company.
The admin then creates virtual data centers (VDCs) for the various entities -- divisions, departments, subcorporations, business partners or even groups within IT -- that make up a company. Those VDCs are granted access to use the pVDCs' resources with an associated SLA.
With this new level of abstraction in place, users granted VDC-administrator access can provision new vApps from an applications catalog via the vCloud Director self-service interface. Overall, this SDDC adds flexibility and agility to the data center.
The software-defined data center described here is not VMware's final destination. Its SDDC vision and supporting product lines, namely the vCloud Suite, will evolve as VMware integrates its Nicira acquisition. Now called VMware NSX, Nicira's intellectual property adds a new network virtualization abstraction layer.
To better visualize the difference before and after SDDC, check out an example of IaaS in action in the software-defined data center in part two of this series.
---
Image: VMware