Evaluate
Weigh the pros and cons of technologies, products and projects you are considering.
VMware Infrastructure Client 2.5 harnesses third-party plug-in power
VMware Infrastructure Client 2.5 includes new features and enhancements, such as greater plug-in capability and support and interface improvements that extend functionality. Here is a review of the top five new features.
VMware Infrastructure Client (VI client) 2.5 is part of VMware's recent round of products. VI Client 2.5 comes with new functionality, such as greater plug-in capability and support and interface improvements. In this tip, I review the best features of the improved VI Client and how they can help you.
Support for ESX 3.5 and 3i
As you cannot connect to the new ESX Server 3.5 and 3i without VI Client 2.5, you don't have any choice on what to use – you must upgrade to VI Client 2.5. For most of us, if we have two versions of ESX running on our network (like ESX 3.5 and ESX 3.0.2), we end up running both VI Client 2.1 and 2.5. When you go to connect to older ESX servers, the VI Client will run the proper client for the version of ESX Server that you are connecting to.
What this also means to you is that you have to upgrade to VI Client 2.5 on all client machines that will be managing your ESX servers. Once you are done upgrading to ESX Server 3.5 across the board, you could then uninstall the VI Client version 2.1 from your machines.
Create your own plug-ins
VI client 2.5 has greater support for downloading and installing plug-ins. Some of VMware's plug-ins are VMware Update Manager and VMware Converter Enterprise (discussed below). These plug-ins must be downloaded and installed into each VI Client that wants to use that plug-in. After the plug-in is installed you will get that additional functionality out of the VI Client.
Here is the new toolbar option you use to manage your plug-ins: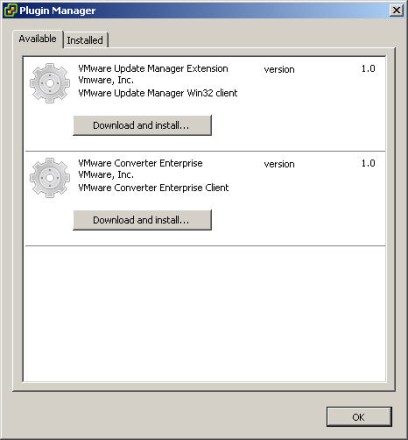 In my opinion, the future expandability for the VI Client going to be all the third party developers creating plug-ins for the client to extend its functionality instead of having other applications that have to be run.
While creating plug-ins for the VI Client does require some programming knowledge, it is much easier thanks to Andrew Kutz. He created the VMware Infrastructure 3.5 Plug-in and Extension Programming Guide.
Additionally, Kutz has created many of his own very useful VI Client plug-ins that are available as free downloads from his website. For example, there is a plug-in that allows you to SSH to an ESX 3.5 server right from the VI Client. Another plug-in allows you to RDP to a guest OS right from the VI Client.
VMware Update Manager
One of the plug-ins available for the VI Client is the VMware Update Manager Extension (shown above). While many of you may have used esxupdate before, the new Update Manager goes much farther.
You might think that update manager is just there to update your VMware ESX Server host systems; and you would only be partially right. Actually, Update Manager goes far beyond that. It enables VMware administrators to apply operating systems patches to your Microsoft Windows and Linux Guest virtual machines. That's right: You can use VMware Update Manager to update your Windows and Linux host systems.
I like VMware's graphic below, showing the "band aids" being applied to the virtual guests with Update Manager: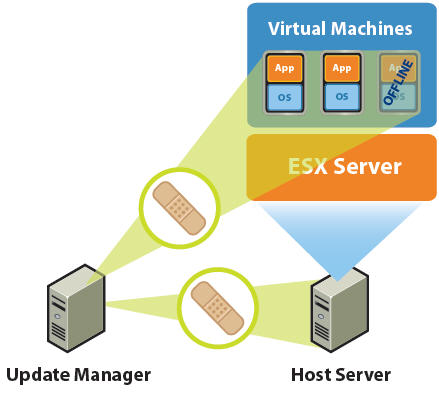 All updates can be set to be automatically applied and Update Manager (UM) will take snapshots of the guest operating systems before applying the patches in case something goes wrong. Additionally, if you are using UM to patch your ESX Server hosts, UM can use DRS to ensure that no virtual guests go down when an ESX Server host system is updated. However, to use it, you must first install the Update Manager client (extension). After you click on the Download and Install link above, the client will install, and look like this when done: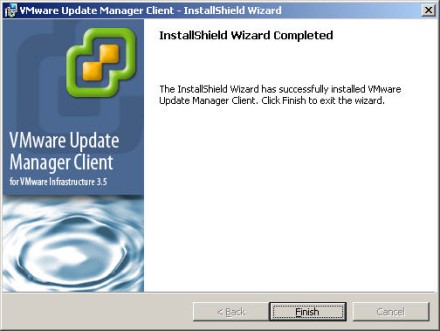 After that you will need to Enable the update manager before you can use it: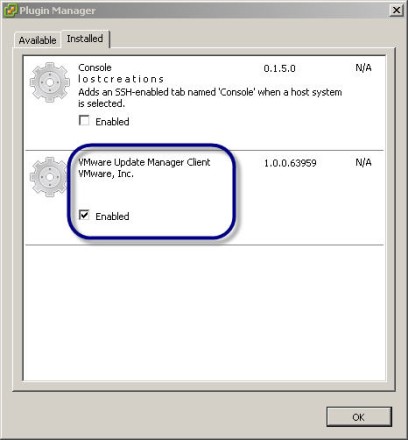 This will create the Update Manager client on the toolbar of your VI client:
If you click on it, you will see the VMware Update Manager administration windows: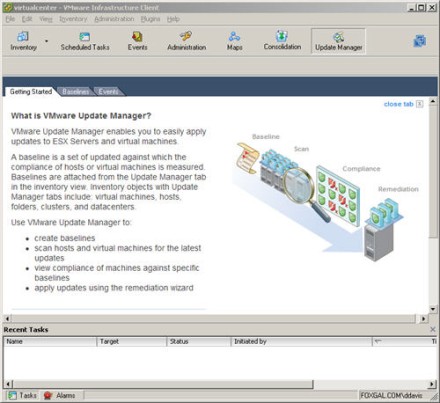 From there, you can begin downloading updates for your hosts and guests from the Internet. You can also run baselines to see what patches are currently installed on your hosts and guests and apply those patches to hosts and guests.
VMware Converter Enterprise
The VMware Converter plug-in is used in physical-to-virtual and virtual-to-virtual (VMware Workstation to ESX or from Microsoft Virtual Server to ESX) conversions. Converter Enterprise offers advanced features such as scheduled conversions, multiple simultaneous conversions and live/hot conversions.
What is new with ESX Server 3.5 is that VMware Converter can be added as a plug-in and used inside the VI Client. It is installed just like the Update Manager. Then, like Update Manager, it must also be enabled. At this point, you are ready to being importing virtual machines to your ESX Server by using the Import Wizard, shown below: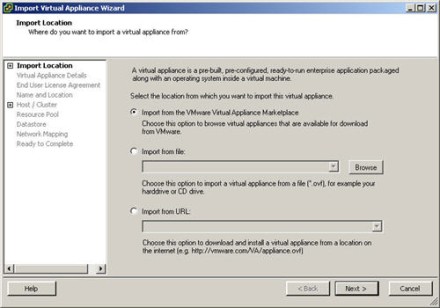 VI Client interface improvements
Finally, in my opinion, VMware updated VI Client's look and feel. This improves aesthetics, but also improves interface usability and system navigation.
For example, when you first login to the client, you are brought to the Getting Started tab. This tab is on each level of the VI Client inventory sections. Here is what it looks like on a VMware ESX Server host system: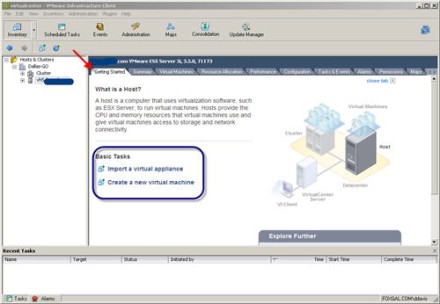 The summary tab has been improved with additional information. So, as you can see, there are some quick things that you can do here to get you started.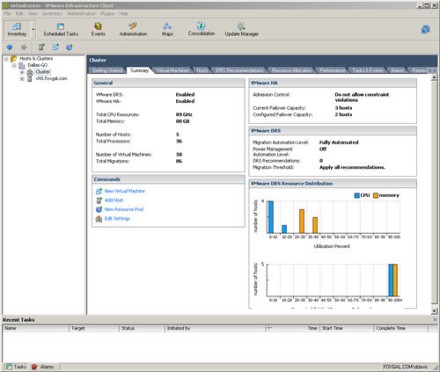 Here is the summary tab for a cluster. This is a quick and easy way to go and learn everything that is going on in the cluster.
The new Consolidation Wizard button is available on all screens to advise you on what servers in your data center would be the best candidates for consolidation.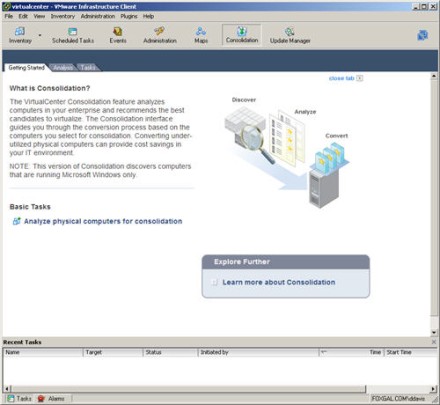 VI client 2.5 is required for VMware ESX Server 3.5 and 3.5i. It has a number of new features and enhancements that extend functionality by allowing you and third-party companies to develop and install plug-ins, which can do a number of things that you previously had to run a separate program to do.
ABOUT THE AUTHOR: David Davis (CCIE #9369, VCP, CWNA, MCSE, CISSP, Linux+, CEH) has been in the IT industry for 15 years. Currently, he manages a group of systems/network administrators for a privately owned retail company and authors IT-related material in his spare time. He has written hundreds of articles, six video training courses - including the Train Signal VMware ESX Server video training series. His websites are HappyRouter.com. and VMware Videos.com.

Dig Deeper on VMware new releases and updates