VMware broadens its horizons with new Horizon 7 features
The new VMware Horizon 7 features include for forking virtual machines, establishing protocols and creating desktop pools.
VMware unveiled Horizon 7 in March 2016 and the updated product offers a number of new features such as True Single Sign-On and support for Windows Server 2016. Horizon 7 features also include improvements to the product's Cloud Pod Architecture feature plus many more new features and other upgrades.
In this article we'll dive deeper into some of the more significant improvements, specifically Instant Clones and Blast protocol.
Just-in-time desktop delivery
VMware Instant Clone technology, also known as VMFork, uses an existing virtual machine as a parent from which to "fork" a new process. The memory and disk state of this machine serve as a starting point for the new VM, so it takes less time to create this process and prepare the operating system with the use of the ClonePrep feature. This takes care of the computer name and the domain membership, tasks otherwise performed by Sysprep or QuickPrep.
According to VMware, with Instant Clone, the process should take two seconds or less. While that might technically be true, and certainly appealing to customers, the reality is that the waiting process is a little longer, as other tasks are performed by the connection server and vCenter Server and, finally, on the hypervisor. Regardless, this is still a dramatic improvement to the amount of time it takes to provision linked clones.
The process of creating instant clones is very similar to the process of creating linked clones. You start by creating a Windows 7 or Windows 10 VM as a parent and install the Horizon View 7 Agent. As you can see in Figure A, there is an option to install the Instant Clone Agent. This cannot be co-installed with the Composer Agent, so if you are also using Linked Clones, you'll need to maintain two separate parents with the respective agent in each.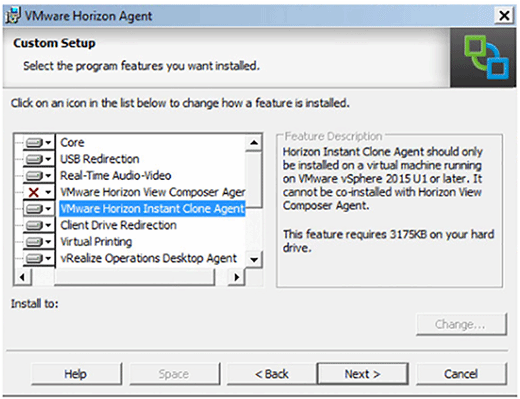 As part of the update to Horizon View 7, VMware removed the Composer component from Instant Clone. Although you can still use Composer along with Linked Clones, it's no longer required for Instant Clone, saving users time spent provisioning and eliminating a single point of failure. The Instant Clone process now uses a combination of a connection server and vCenter Server, leaving vCenter as a single point of failure, but gives the user the added benefit of creating all machines up front. This means that when enough VMs are in the available state, end users can access them directly without interference from vCenter. However, users should be mindful of the fact that this type of machine will be deleted and recreated, so you'll need to use vCenter when logging out.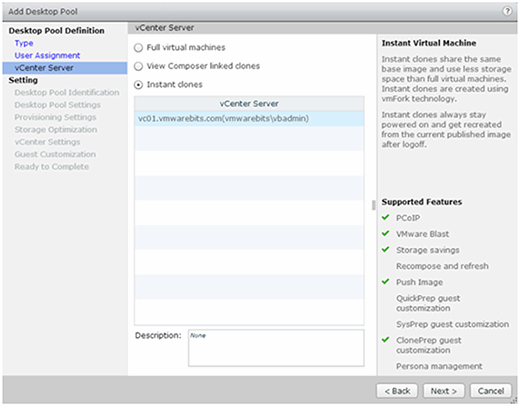 The update to Instant Clone has also eliminated the need for a recompose or a rebalance. VMware has introduced a new push image feature that allows you to create new VMs quickly and efficiently.
So what are the limitations to Instant Clone? For one, cloned VMs can only be used with floating desktop pools rather than dedicated assignment pools or desktops with persistent disks. Linked Clone already has limited use cases for dedicated desktops because keeping clones up to date with newer patched versions requires frequent recomposing. Instant Clone desktops only support Windows 7 and Windows 10, and do not support 3D rendering.
Limitations and improvements to Horizon 7
Instant Clone isn't the only updated feature with requirements that limit its use in different environments.
There are a few new features that can be used to offload work from the virtual desktop to the client computer: Flash Redirection, Flash URL Redirection and URL Content Redirection. All three require the use of Internet Explorer 9, 10 or 11, so users that use Firefox, Chrome or another browser can't benefit from these new features.
One of the most significant improvements to Horizon 7 is that Cloud Pod Architecture now allows for more sites and pods and, consequently, more desktops. VMware has expanded the number of sites and pods from two sites and one pod with a single set of connection servers working together to five sites and 25 pods with a maximum of 125 connection servers supporting a maximum of 50,000 desktops. This means that organizations with more than two sites can now benefit from linking their view infrastructures and link multiple view instances in one site, simplifying administration and providing users global permission over the entire setup.
VMware Blast Extreme
Horizon 7 features an updated version of the Blast display protocol, named Blast Extreme. Although it does not yet replace PC over IP (PCoIP) -- PCoIP is still the default for creating desktop pools -- this will likely change in the near future. The Blast protocol was previously only available when using HTML access for View and for Linux desktops, but it's now available through the entire range of clients, so long as they have updated to Horizon View Client 4.
You can now select VMware Blast as the default protocol when creating a desktop pool. Ultimately, the VMware Blast protocol offers an identical user experience to PCoIP in both the office and through remote connections.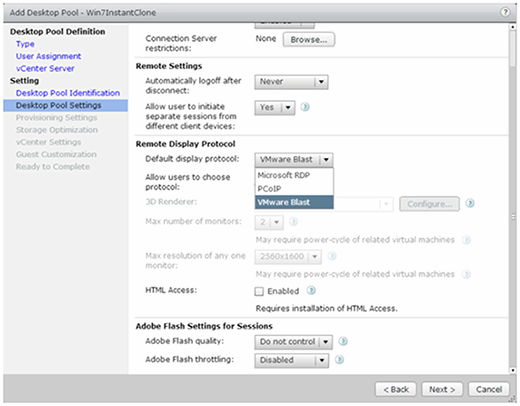 Since Blast Extreme uses the H.264 standard for video compression that is supported in both hardware and software users will likely see a boost in H.264-enabled devices over PCoIP. As of April 2016, only the Wyse (Dell) 5020 and 7020 models as clients were on the Compatibility Guide.
Like PCoIP, Blast Extreme comes with an administrative template -- an ADM-file -- that allows users to set protocol policies such as the maximum session bandwidth or the image quality. Blast Extreme also has a setting to allow it to use User Datagram Protocol (UDP) instead of Transmission Control Protocol (TCP), which is the default protocol. This setting specifies whether to use UDP or TCP, but does not apply to HTML Access, which always uses TCP. Configuring UDP eliminates some of the TCP overhead, improving the user experience even more.
Next Steps
Will Horizon 7 be neck-and-neck with Citrix XenApp by the end of 2016?
A look at how VMware Horizon View stacks up
How can OS optimization improve your Horizon View experience?
New features help VMware Horizon Client take next step