Tomasz Zajda - Fotolia
VMware changing vCenter architecture in vSphere 6
The new version of vSphere will not arrive until 2015, but VMware previewed some of the revisions to single sign-on and other services in vCenter.
While there were several recent announcements about the next version of vSphere at VMworld 2014 in San Francisco, vSphere 6 is not expected to be released until early 2015. There were several interesting sessions about the new version during a technical preview session. Here are some of the features that were discussed during the presentations.
Battle between vSphere clients continues
VMware has tried to move administrators from the vSphere Desktop Client to the Web Client, but has not been very successful. Despite some great features that make life easier, administrators still have several issues with it. The slow performance is one obstacle. Another hindrance: The Web Client doesn't update the status of the inventory the way the vSphere Desktop Client does.
VMware said the vSphere Desktop Client will be available in the new version of vSphere to allow connections to both an ESXi host and the vCenter Server. New functionality will not be added to the Windows-based client, but VMware will add support for managing hardware level 10 and 11 in read-only mode. Administrators who upgrade to vSphere 6 would then be able to use the vSphere Desktop Client if they keep the VMs at hardware level 9 to keep read and write access to VMs.
Hopefully, when VMware moves to HTML5 -- which they have been talking about for a while -- and when they can improve the performance of the Web Client, administrators will finally make the move to the new Web-based platform -- where all other VMware products have gone.
Not another new SSO!
Part of the next version of vSphere is a new service called Platform Services Controller (PSC). It replaces the current version of single sign-on (SSO) and has several new important services. The architecture of SSO has changed from version 5.1 to 5.5, which has caused upgrading issues for some customers. When you look closer at PSC, you can see VMware is moving in a good direction.
With previous releases, SSO was updated with vSphere and some other products were using that as the authentication source. That caused for problems when SSO was not up to date for the released product. To avoid this issue with the next version of vSphere, VMware announced PSC will be updated independently from vSphere before any products that depend on it are updated.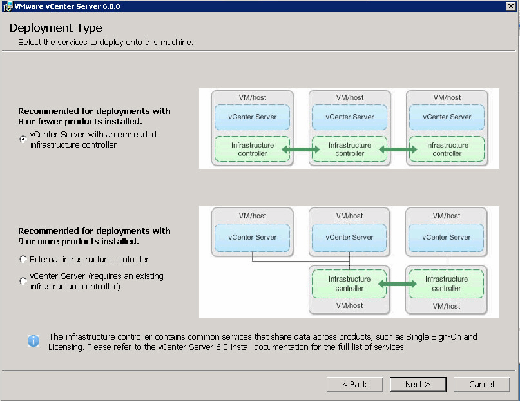 In Figure 1, this screenshot from the vSphere 6 private beta shows the PSC is called Infrastructure Controller, but it will be named PSC when the product is released. The architecture will be similar, but with one or more embedded controllers or separately installed controllers for connecting to vCenter.
PSC will provide the functionality SSO offers, but it will also provide license services, certificate store services and other services, which will be added. This will give administrators one platform to manage these core components for all VMware products. The PSC is a distributed service that takes care of its own data synchronization, meaning there is redundancy in the platform by default. In a smaller environment, VMware suggests at up to eight vCenter servers, you would install PSC on the same server where you also install vCenter. If the environment is larger, VMware recommends installing PSC on separate servers and have your vCenter servers connect to the PSC server pool.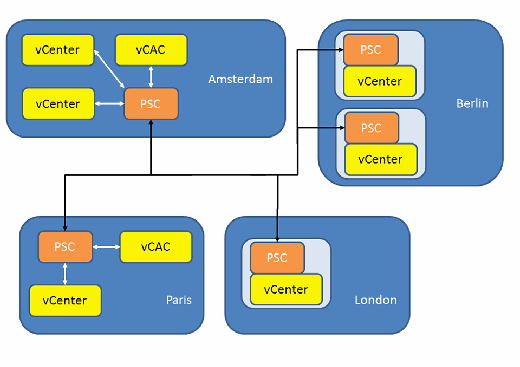 In Figure 2, one or more PSC servers can be deployed in all your data center locations, then your vCenter servers and other VMware products, such as vRealize Automation -- formerly vCloud Automation Center -- and vRealize Orchestrator -- formerly vCenter Orchestrator -- connect to the PSCs.
What is the plan for VMware High Availability?
In the current architecture of vCenter for both Windows and the Linux-based appliance, vCenter Server is a single point of failure. If the server fails, then you lose the management of your vSphere environment. The products that work with vCenter to deploy and manage VMs, such as vRealize Automation or Horizon View, might fail. Earlier in 2014, vCenter Server Heartbeat -- which provided redundancy to protect the Windows vCenter Server -- was removed from VMware's product portfolio and has not been replaced.
At VMworld 2014, VMware said using vSphere HA or Fault Tolerance (FT) could be used to protect vCenter in the next vSphere release. In case of a hardware failure, the vCenter VM will be either restarted by HA or it will seamlessly become available with FT. Of course, this is only true if you run vCenter in a VM.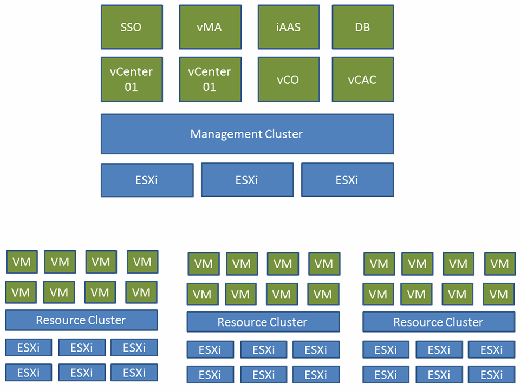 If there are customers that are running vCenter in a physical machine, then it's about time they move it to a VM. To do this, the best approach is to run a management cluster of at least three ESXi servers (see Figure 3). That cluster, which is separate from the clusters for production workloads, will be used to run VMs that are used to manage your virtual environment, such as vCenter, vCAC servers, vCenter Log Insight, vCenter Orchestrator, vCenter Operations Manager and so on. This approach will increase the overall availability of your entire virtual environment.
Another issue with vCenter service on Windows or Linux on a single instance, is the service could fail due to a software error or networking error. HA or FT will not be of any use. The vCenter program manager said VMware is exploring a "watchdog" process for 2015 to solve this issue. It doesn't sound very technical, but more details were not disclosed. He said for 2016, VMware plans to have a solution along the lines of a distributed redundant service.
Time to move to the Linux appliance?
In the next release of vSphere, the vCenter Linux appliance is supposed to have the same maximums as the Windows version: 1,000 managed ESXi servers, 10,000 powered-on VMs, 64 hosts per cluster, 6,000 VMs per cluster, and 10 vCenter servers connected with linked mode.
Previously, linked mode was not available in the appliance because VMware used Active Directory in Application Mode to provide an LDAP store for the configuration and distribution of that data to other vCenter servers in a linked-mode setup. Active Directory Application Mode (ADAM) was not available on Linux, which meant no linked mode. For the new vSphere, VMware will no longer use ADAM for linked mode, but rather a new architecture that is now also available in the Linux virtual appliance.
Also noteworthy is both the Windows and the appliance will use an embedded vPostgres database; a selection of external databases can be used from Windows, and Oracle will be used as an external database for the appliance.
While the Linux appliance is becoming a viable solution for customers to run vCenter, there is one show stopper: There is no migration utility to migrate data from your Windows vCenter Server to the Linux appliance. This has also not been announced for the next version of vSphere, but VMware expects to release this functionality in 2015. When this appears, adoption of the appliance should pick up and hopefully pave the way to an appliance-only future.
Dig Deeper on VMware new releases and updates