Fotolia
VMware emphasizes all-flash in VSAN 6.5 licensing changes
VSAN 6.5 users can take advantage of all-flash with a Standard license but still need a higher option if they want deduplication and compression.
Technical innovations and feature improvements aren't the only highlight of VSAN 6.5; data center admins should...
Continue Reading This Article
Enjoy this article as well as all of our content, including E-Guides, news, tips and more.
know about a licensing change to all-flash configurations.
One of the biggest perks of VSAN is that it's native to the ESXi hypervisor -- as a kernel module. You don't have to install any add-ons or any virtual storage appliances to benefit from the shared pool functionality or linear scaling capability.
Arguably the most attractive part of VSAN is its simplicity. As long as you meet the requirements outlined in the VMware Compatibility Guide, you're ready to deploy VSAN 6.5.
VSAN 6.5 licensing change
The biggest change to VSAN 6.5 licensing is the new all-flash offering. All VSAN 6.5 licenses include support for both hybrid and all-flash configurations, including the Standard license. This means you're no longer limited to hybrid configurations when you have a Standard VSAN license; you can now deploy VSAN on an all-flash array. All-flash configurations were introduced with Advanced and Enterprise licenses in VSAN 6.2, while hybrid was the only configuration available on the Standard license. In VSAN 6.5, all-flash is supported in Standard, Advanced and Enterprise licenses.
While all-flash configurations are not supported in all licenses, support for deduplication and compression, as well as erasure coding, require an Advanced or Enterprise license. If you want all of the features previously mentioned, along with stretched-cluster functionality in order to create a single pooled VSAN data store between two data centers, you need an Enterprise license.
Deduplication and compression, along with erasure coding, is also available with the Remote Office Branch Office (ROBO) license. Figure A shows the features supported by each license type.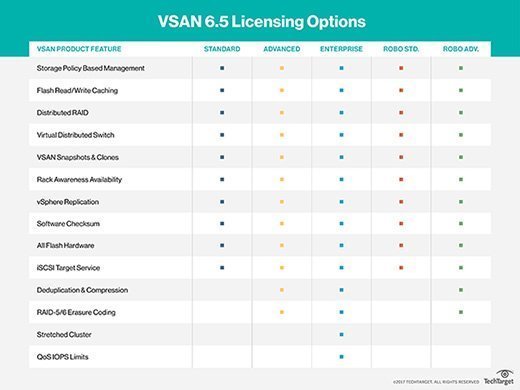 Feature changes in VSAN 6.5
One feature that received an upgrade is 2-node support. The 2-node feature was introduced in VSAN 6.1, along with stretched cluster architecture, which focuses on avoiding downtime. Stretched cluster architecture allows users to have to two data centers running with an identical number of ESXi hosts on each.
VSAN 6.1 introduced 2-node support for ROBO deployments. There's actually a third node -- a witness node -- that is installed in a central location. However, in VSAN 6.1, you needed to connect those two VSAN hosts via a high-speed 10 Gigabit Ethernet switch.
VSAN 6.5 offers the ability to directly connect each data node using one or more crossover cables. This means you can cross-connect two VSAN hosts with a simple Ethernet cable. This allows organizations to lower the cost of ROBO deployments, because high-speed switching is no longer necessary.
VSAN 6.5 has between 20% to 50% lower total cost of ownership from previous versions, according to VMware. Between high-speed switching being no longer necessary and the addition of deduplication and compression and erasure coding, the TCO savings will range.
Admins can now split VSAN traffic by type by separating data traffic from witness traffic through different VMkernel ports. In a direct-connect configuration, VMware recommends connecting two crossover cables between the nodes -- even if the offering works with just one. VMware also suggests 10 Gbps connectivity.
VSAN 6.5 now allows physical server access via iSCSI. The latest update to VSAN has the ability to expose its storage as an iSCSI target and provide storage to physical hosts that live outside the VSAN cluster. In previous versions of VSAN, only the virtual servers in a cluster could access storage on a VSAN via a VMware proprietary protocol. This means admins can use VSAN storage for workloads that aren't virtualized. Users can take advantage of features such as deduplication and compression, as well as mirroring and erasure coding with the iSCSI target service.
Next Steps
Can you meet these extensive VSAN requirements?
How do you know if VSAN is right for your data center?

Is VSAN's flash strategy the right choice?
Dig Deeper on Selecting storage and hardware for VMware environments