ra2 studio - Fotolia
VMware focuses on simplicity in vSphere version 6.5
One of VMware's goals for vSphere 6.5 was to create a simplified user experience, and with features like a new vSphere Client and improved VM management, the company may meet that goal.
VMworld 2016 Europe in Barcelona featured one major announcement, one users have been speculating about for some time now: vSphere 6.5.
According to VMware, vSphere version 6.5 will focus on three key areas: a simplified user experience, built-in security and a universal application platform.
VSphere 6.5 is officially generally available as of November 15th.
So what's new in vSphere 6.5? Let's take a quick look before we dig deeper into some of these features: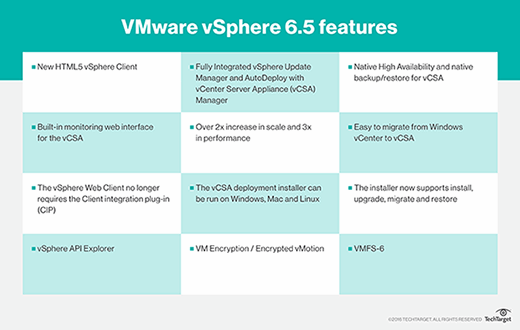 Out with the old, in with HTML5
It was no secret that the new HTML5 Web Client -- now known as vSphere Client -- was going to be included in version 6.5. When the engineers at VMware labs released the HTML5 Host client fling back in the summer of 2015, the obvious progression was a rewrite of the Web Client, since the majority of users disliked the Flash-based Web Client.
VMware has included some of the most popular features from vCenter Server in the new vSphere Client and improved the speed of execution for things like login times and editing VM hardware settings. This refinement has resulted in a significant boost in performance. There's even a real-time refresh, which means the days of hitting the refresh button are over. Plus, the action menus are supposed to be much faster and flatter for a better navigation hierarchy.
It's probably worth noting that not every feature will be available via the new vSphere Client, and that the client will be patched and updated separately from the rest of the vCenter Server.
VMware has added two times the scalability to vSphere version 6.5, with support for 2,000 hosts and 25,000 VMs per vCenter Server.
Say goodbye to CIP
When the engineers at VMware labs released the HTML5 Host Client fling back in the summer of 2015, the obvious progression was a rewrite of the Web Client, since the majority of users disliked the Flash-based Web Client.
VMware has also made an effort to ease the deployment process for vSphere 6.5 by including a deployment wizard with built-in migration tools. To upgrade to vSphere version 6.5, you'll need to deploy a new vCSA and migrate your existing vCenter data onto the new appliance. You can migrate from Windows vCenter Server 5.5 or 6.0 to vCSA 6.5 and dictate how much legacy data -- configurations, events, tasks and performance metrics -- is migrated.
You can even use the installation wizard to migrate an existing Windows Update Manager deployment onto the new integrated vSphere Update Manager. The installation tool no longer requires you to install the Client Integration Plugin (CIP) in order to deploy vCSA; in fact, it now provides support for deploying vCSA from Mac OS, Linux and Windows.
Even better: VMware is dropping the CIP entirely. This is excellent news -- I can't tell you the number of times my browser told me the CIP wasn't installed, even though I knew I had already installed it. Many of the features that depended on the CIP, such as an Open Virtual Appliance, or OVA, deployment, are now natively integrated with the new vSphere Client. You can now choose which console runs by default when accessing a VM from the client -- in previous clients you had the integrated console and also the VMware Remote Console (VMRC). When you click on the VM console, the VMRC download is now included in the vCSA -- which means it doesn't redirect you to VMware's download portal.
VMware improves VM management
VCSA 6.5 also includes a fully integrated vSphere Update Manager (VUM) -- say goodbye to the external Windows Update Manager. VUM will share the vCSA vPostgres database. One of the obvious benefits of this change is the VUM will utilize vCenter High Availability (HA) and backup. In addition, vCSA 6.5 comes with an embedded AutoDeploy feature which now has its own graphical user interface in vSphere Client.
VSphere version 6.5 introduces new REST-based APIs for VM management, and there's even an API Explorer available with vCenter which helps you navigate through application programming interfaces (API) and helps you understand the API model and try out any API calls without impacting the vCenter Server.
We all know that vCenter Server is a critical component of our virtual data center; nearly all of VMware's products integrates and depends on vCenter Server, including several third party products. One of the features missing from previous versions was an efficient and effective way of making your vCenter Server highly available. Yes, you could use vSphere HA to restart the vCenter Server if a host failed, but the recovery time objective (RTO) wasn't great, which meant you had to try to use Fault Tolerance to protect the vCenter Server.
Greater HA in vCenter 6.5
With vCenter 6.5, HA is now natively built into the vCSA -- the appliance only, not Windows vCenter -- and it's easy to set up HA via a wizard that guides you through the process. The wizard basically deploys a passive copy of the vCSA with a witness node to manage failover in order to prevent split-brain scenarios. There's no dependency on shared storage or any external databases.
Automatic database and file replication occurs between the active and passive vCSA to ensure synchronization. RTO now takes less than five minutes, failover is automatic and the vCenter identity is preserved, including any plugins.
Backup and restore functionalities are also now native to vCSA in vSphere version 6.5, which means you can backup directly from the vCSA VMware Appliance Management Interface (VAMI) or through API calls and restore via the vCSA installer. You can backup via several protocols, including HTTP, HTTPS, File Transfer Protocol, session control protocol and Secure File Transfer Protocol, choose what you back up -- configuration, events/tasks, alerts, historical data and so on -- and enable encryption on your backup data. It's also worth noting that the vCSA VAMI has undergone a nice facelift and now shows performance and monitoring statistics for the vCSA's CPU/RAM, database and health.