Manage
Learn to apply best practices and optimize your operations.
VMware pricing: How does the new per-VM model affect customers?
The VMware pricing model for management products has changed, and it has several ramifications. Per-VM licensing could help or hinder operations, depending on your business needs.
VMware adopted per-virtual-machine (VM) licensing for certain management products. The VMware pricing change represented...
Continue Reading This Article
Enjoy this article as well as all of our content, including E-Guides, news, tips and more.
a definitive break from established licensing models that date back to early days of computing.
Traditionally, VMware sold licenses on a per-processor basis. But hardware components have become more capable, with increased core counts and host memory inventories. The new VMware pricing model is a revenue-protection strategy against these multiprocessor, multicore servers. At the same time, it allows customers to develop a refined, get-what-you-pay-for cost model.
This tip breaks down VMware's new per-VM pricing scheme, as well as its potential benefits and pitfalls.
A breakdown of the new VMware pricing
As of Sept. 1, VMware sells and licenses vCenter AppSpeed, Chargeback and Site Recovery Manager on a per-VM basis. (VCenter Capacity IQ will eventually move to per-VM licensing as well, but this model does not apply to vCenter Server, Lab Manager or the storage licensing requirements for vCenter Site Recovery Agent.)
The term "per-VM licensing" is misleading, because VMware makes licenses available only in bundles of 25. On one hand, this process makes it easy to scale, but administrators may also end up purchasing more licenses than necessary if they aren't careful. Also, each VM bundle under the new per-VM pricing guidelines maintains its own Support and Subscription (SnS), which has probably created headaches for every VMware customer at some point.
Figure 1
The following chart outlines each product and the associated per-VM price points. (Click image for an enlarged view.)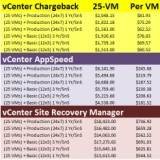 But per-VM pricing is great for rounding out operating system environment (OSE) costs for software. As IT managers at many organizations do, I track costs for each OSE. Virtualization reduces the overall cost of ownership, but there are still costs for the operating system (e.g., Windows) and other complementary software pieces for each VM's OSE. For a typical OSE, there are the following costs (using generic prices):
| | |
| --- | --- |
| Windows Server OS | $706.01 |
| Enterprise System Management | $451.01 |
| Backup Agent | $344.01 |
| AppSpeed (three-year commitment) | $245.68 |
| Site Recovery Manager (three-year commitment) | $736.92 |
| Total | $2493.63 |
What to watch out for
Most organizations use some form of enterprise purchasing for software, such as the Windows Server OS. Microsoft offers the True-Up program, which is an annual reconciliation of purchased licenses versus what programs are in use. Microsoft allows users to purchase software licenses when they are needed.
VMware has a slightly different approach: The per-VM licensing packs are purchased ahead of time, based on forecasted usage. If you consume more licenses than expected, you can add more at the end of a year. But you won't be reimbursed if you initially purchased too many.
With the new VMware pricing structure, administrators need to consider a few other things:
The proper amount of licenses. Licensing depends on several factors, and the goal is to have the right amount. So check with your VMware account representative for options that are specific to your situation.

For a limited time, you can also purchase products under prior agreements. So reach out before this situation becomes a problem. VCenter Site Recovery Manager, for example, can still be purchased per-processor until December 15, 2010.

Looking forward. For future purchases, per-VM pricing enables organizations to have a more granular pricing model for each OSE and its selected features.
VCenter Server. Whether or not this VMware pricing and licensing model will eventually apply to vCenter Server is unknown.
About the author:
Rick Vanover ([email protected]), vExpert, VCP, MCITP, MCTS, MCSA, is an IT Infrastructure Manager for a financial services organization in Columbus, Ohio. He is an IT veteran specializing in virtualization, server hardware, operating system support and technology management. Follow @Rick Vanover on Twitter.
Dig Deeper on Using monitoring and performance tools with VMware