VMware vCloud Director evaluation guide: Five use cases to consider
VMware vCloud Director brings cloud computing features to vSphere shops, but it's a significant investment that warrants serious evaluation first.
A lot of factors go into a vCloud Director evaluation: price, features, how it differs from vCenter or third-party...
Continue Reading This Article
Enjoy this article as well as all of our content, including E-Guides, news, tips and more.
management tools, deployment options and more.
Most IT shops running VMware vSphere use vCenter to manage vSphere hosts and to access advanced virtualization features like vMotion and High Availability. How do you know if you should be considering VMware vCloud Director (vCD) on top of vCenter for your data center? Each of the five use cases covered in this vCloud Director evaluation guide call for IT features that are beyond vCenter's capabilities.
1. Power users and developers
Implementing vCD gives organizational admins and other designated end-users the ability to administer their organizational virtual data center (oVDC) through a Web-based interface, just as they would a real physical data center. With self-service, they can provision new virtual machines (VMs) and applications (vApps), add new applications (in the form of vApps) to the application catalog, create new virtual networks and add new users and roles.
If you have multiple power users or developers who want much more control over their virtual infrastructure, consider vCD.
2. Multiple service tiers with service-level agreements
VMware vCD operates on provider virtual datacenters (pVDC) that you create. These pVDCs are then provided to oVDC. While you can have a 1:1 relationship between pVDC and oVDC, it's not required.
Alternatively, you can create multiple pVDCs that are available to a single oVDC. For example, you might create gold-, silver- and bronze-level pVDCs, tiering the service-level agreements (SLAs) by the storage that they offer. The gold pVDC uses premium storage networking, such as Fibre Channel; silver has iSCSI; bronze offers network file system-based network-attached storage or slower iSCSI.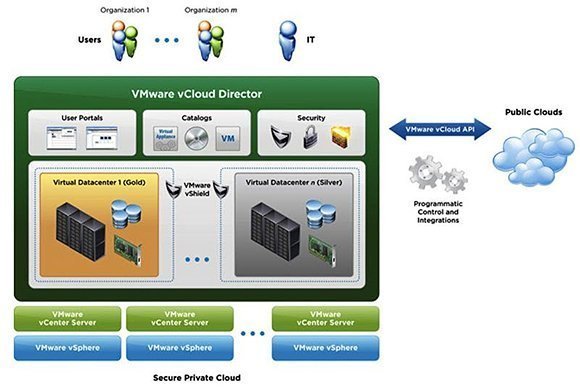 Figure 1. Gold and silver pVDCs in a sample vCloud infrastructure.
Graphic courtesy of VMware.
3. Reliance on an application catalog
With vCenter and vSphere, template virtual machines can only be deployed by vCenter admins. You must know what virtual network, storage, cluster and other virtual infrastructure components to use when deploying the template VM.
With vCloud Director, the organizational admin or other authorized user can create vApps that contain one or more VMs, running pre-installed and preconfigured operating systems and applications. Those vApps can then be deployed from within the oVDC using resources from the pVDCs to which they are granted access.
4. Service providers
If your company is an IT service provider or is considering that business model, vCloud Director lets you create a secure multi-tenant virtual infrastructure. Service providers use vCloud Director to carve out virtual data centers with their SLAs, onboard customers (organizations) and assign these customers to their own secure virtual data centers that they can administer through a self-service portal.
Look into VMware's service provider program (VSPP), which gives IT service providers access to all the pieces of the costly vCloud Suite, but only charges for what the service providers' customers use.
5. Multiple company divisions and multiple admins
If your company grew through acquisition or operates several large sites or divisions, the IT team probably has more than one virtual infrastructure admin. You might have multiple data centers, multiple autonomous divisions and multiple system admins and application owners.
The argument against appointing one single admin or a group of admins to control resources across the entire company involves business politics and efficiency. Experienced administrators who are already knowledgeable about their division's applications and needs should be utilized, not undermined.
VCloud Director can convert one or multiple data centers into a private cloud administered through a single Web-based interface. The company divisions can be carved up into their own organizations, each with their own VDC resources. They can have their own application catalogs for their own users and groups, and receive a monthly bill for their organization's IT usage to support chargeback -- or at least showback.
Wish list: vCD for the SMB
Small and medium-size businesses (SMBs) aren't managed service providers, don't need multi-tenancy and may not even need more than one pVDC. But VMware would do well to release a simple virtual appliance of vCloud Director that offered self-service, application catalogs and hybrid cloud management for SMB use cases. SMBs need a self-service portal and application catalog for their vSphere infrastructure so that admins and developers can deploy their own VMs easily, without being extensively trained on vSphere or vCenter. This virtual appliance would ideally be free and available at every paid level of VMware vSphere.
Keep in mind that you don't have to purchase vCloud Director. You can utilize vCloud Director through VMware vCloud service providers if that fits your use case and budget.
If any of the above scenarios describes your business, evaluate vCloud Director for free via VMware's 60-day trial period. You can try out vCD in a home lab, just as you would try a new vSphere version or other tool before introducing it to the production environment. This will give you a sense of whether vCloud Director pricing matches its benefits for your infrastructure.
Dig Deeper on Using VMware cloud computing tools