Tomasz Zajda - Fotolia
VMware vSphere 6 Update 1 brings new features to vCenter
Now that vSphere 6 Update 1 has been out for some time, here are all of the new features and improvements it brings to vCenter.
Administrators were eager to start deploying vSphere 6 when VMware released it, but the anticipation for the first update is still high. VMware released the vSphere 6 Update 1 in September 2015 and a large number of components and products were updated. In this article we describe the new features and how you can start using them in your environment.
Before we get started please check if you have the most up-to-date version installed. If you inherit an environment from another administrator or if other administrators might have updated software, then it's necessary to be able to verify this -- and that has not always been simple. Even after the vSphere 6 Update 1 installation, your server will still be version 6.0. VMware has simplified this by releasing a knowledge base article with the version and build numbers for their products.
Another very important document for administrators is the one that explains in which order VMware products should be updated. VMware suggests you start with the Single Sign-On server -- now called Platform Services Controller (PSC) -- and then follow its list to update the other components and products.
VMware vCenter and Update Manager
One of the welcome new features for administrators in vSphere 6 Update 1 for the appliance version is the Web-based interface that you can use to manage the appliance. The virtual appliance management interface was available in previous releases but was dropped with the initial release of vSphere 6. It's now back and can be accessed on port 5480 where it used to be. The interface is completely new and offers a few interesting features, including the ability to manage the networking configuration of the appliance as seen in Figure 1.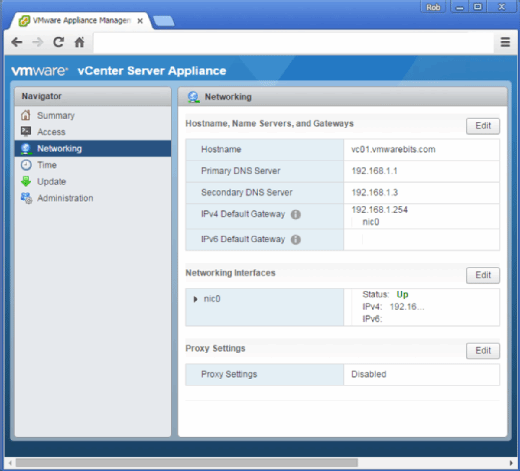 Another important feature that has been made available is the section that allows you to easily update the appliance in the future. There are a lot of steps involved in updating the appliance. Now that the new Web-based interface has been made available you will be able to update the appliance more easily in the future, for when Update 2 is released for example.
The PSC now has its own Web-based management user interface. This interface allows you to manage identity stores, users and groups for single sign-on (SSO) and password policies. Admins can also manage certificates for your environment inside the PSC Web-based management user interface. Not only can you manage the Certificate Authority and replace certificates, but you can also manage individual certificates for your vCenter servers, as shown in Figure 2.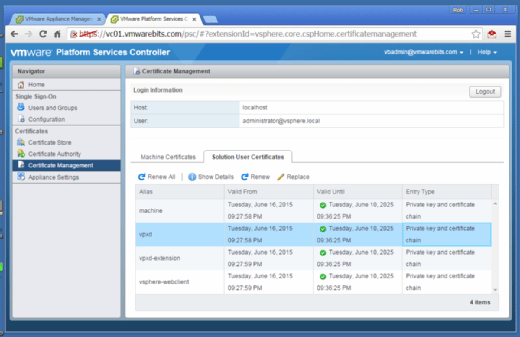 With the vCenter Update 1, VMware has also provided a tool to separate an embedded vCenter and PSC. This is interesting for customers that are upgrading from vSphere 5.1 or vSphere 5.5 and already using an embedded SSO server in their environment. When upgrading to vSphere 6 the only possible path is to upgrade to an embedded vCenter server with PSC.
But if you wanted to move to another setup with a separate vCenter server and PSC, then there was no other option other than to install new servers and recreate your inventory. That changes in the new PSC architecture.
As soon as you want to connect multiple vCenter servers to a PSC, it needs to be external and can no longer be embedded in your vCenter server. It also needs to be external if you want to create a redundant setup for your PSC.
With the new update, if you have installed an embedded PSC or have migrated from an earlier version with an embedded configuration, you can move to an external PSC. To do this, first install a new PSC with either a Windows Server or a Linux vCenter appliance with just a PSC, not vCenter. Next, point your existing vCenter deployment to the new PSC using the command cmsso-util. Figure 3 shows the options of this command inside the vCenter appliance.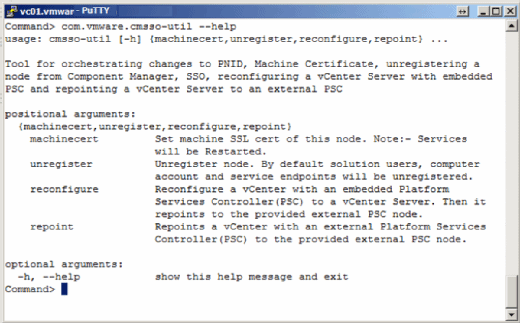 Besides technical enhancements in Update Manager, a great improvement is that it now has full support for managing the product from the vSphere Web Client. As you can see in Figure 4, you can now manage baselines and the rest of the Update Manager configuration from this client and you no longer have to use the vSphere Web Client for this.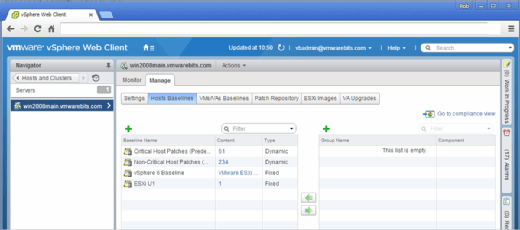 Dig Deeper on VMware new releases and updates