Manage
Learn to apply best practices and optimize your operations.
VMware's vSphere 6 release keeps content under control
The content library feature in vSphere 6 brings centralized management of templates and other items to businesses running multiple vCenter Servers.
With its vSphere 6 release, VMware released the content library, a long-overdue feature that has been on the wish...
Continue Reading This Article
Enjoy this article as well as all of our content, including E-Guides, news, tips and more.
list for administrators in most large-scale organizations.
The content library is a repository for virtual machines,ISO images, scripts, vApps and other files. With a content library, you can update, share and synchronize template images across multiple vCenter Server instances. This is very helpful in sites with multiple vCenter Servers or organizations with multiple data centers.
In the past, there was no good or automated way to coordinate templates between vCenter Servers or sites. Admins would update a template and then clone the template and move or copy the cloned version to the other site or vCenter Server. Because of all this manual effort, there could be a version variance in the templates between vCenter Servers due to a missed step or laziness. There are numerous opportunities that open up with this feature, such as keeping gold images in a virtual desktop environment updated and synchronized despite having an environment with multiple vCenter Servers.
Types of content libraries
There are three types of libraries available in the vSphere 6 release. A local library contains files that are only available to a single vCenter Server instance. With a published library, the administrator shares content with other vCenter Servers. Lastly, with a subscribed library, all the content -- or the metadata of the content -- from a published library can be used.
Material in the content library can be password protected should there be a need for further security.
Creating a content library
To start creating your content library, log into the vSphere Web Client, as this and other new features are not available in the Windows-based vSphere client. From the Home area, click on the Content Libraries icon.
From the content library screen there is a button to create a new library. See Figure 1. Click this to begin the process; if the icon is grayed out you are lacking the right permissions to create a library and will need to fix.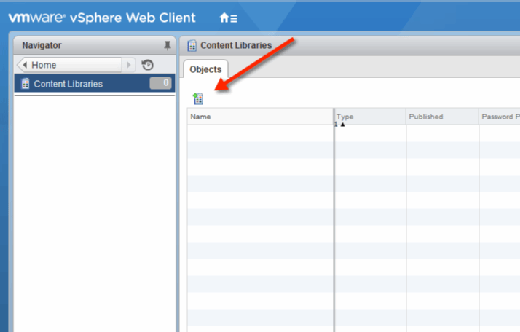 Next, you will be asked to enter a name for the library. See Figure 2. There is also a drop-down choice for choosing the vCenter Server where the library will be created.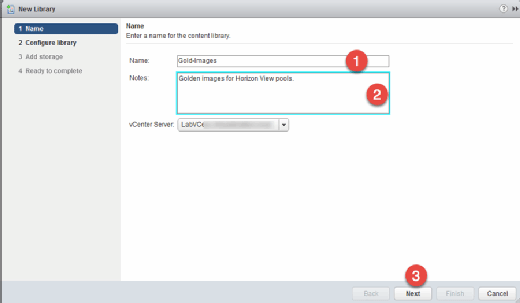 Next, define the type of library to be created. See Figure 3. Since this is the first library in our test scenario, we will create Local content library and choose publish the content library externally. This will allow connections to this library from additional vCenter Servers. We are not enabling authentication since this is a lab test and do not care about asking for additional confirmation before connecting to the library.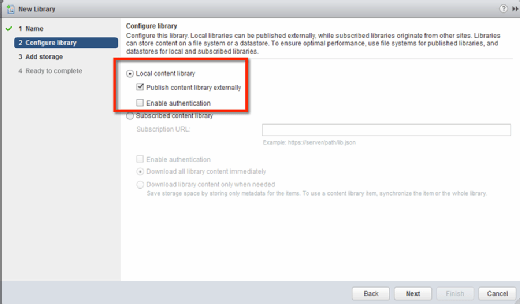 Next, add or select the data store for storage. See Figure 4. You have the option to use a URL to an NFS mount that is not a data store or you can select a data store that is currently mounted and configured within the vCenter Server. To keep things simple, I selected an existing data store.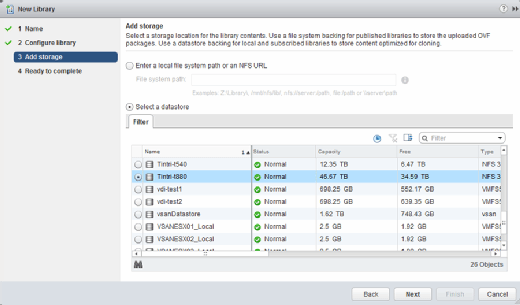 Next, confirm the choices made in the previous steps. If all is correct, click the Finish button to start the process.
Adding a template to the library
With the new content library, we can publish a virtual machine into it. See Figure 5. We will use one of the existing templates in our vCenter Server. Once you find the template, right-click on it and choose Clone to Library.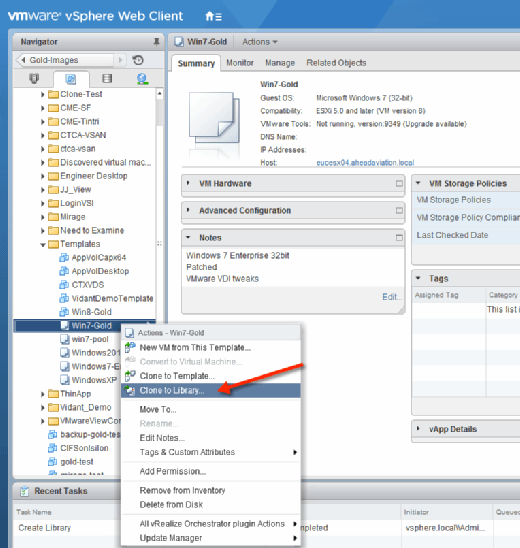 A pop-up window will ask for details about the template being copied to the library. See Figure 6. First, enter a new name -- or leave it the same as the template -- and enter a description in the Notes section so others in IT are aware of its purpose.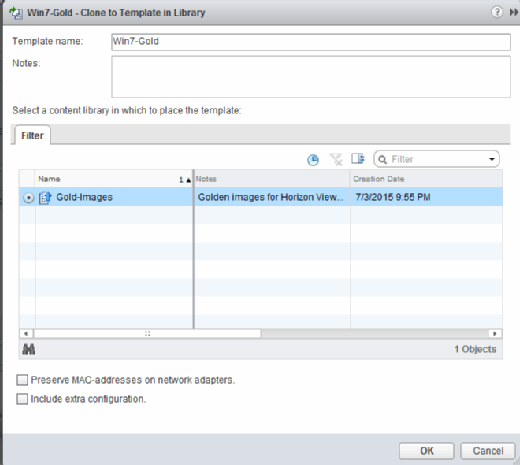 After the template has been added, go back to the content library in the vSphere Web Client. The content library shows the various details of the item: its type, size, guest OS, last modification date, and the date of the last synchronization. These details are helpful when you are sharing your library or consuming items from a shared library to see if you have the most recent content.
Dig Deeper on VMware new releases and updates