Manage
Learn to apply best practices and optimize your operations.
Virtual environment management with Embotics V-Commander
Researching virtualization management tools? V-Commander helps manage virtual machines, which can be important if your organization has well-established policies and procedure requirements.
Managing virtual machines (VMs) in VMware environments can be a difficult task. Stacked with various requirements from many different directions, organizations need technologies to manage their virtual environment in accordance with rules and standards. One tool to achieve enterprise-class virtual environment management is V-Commander 3 from Embotics. This article shows you what V-Commander can do for you.
Why do I want to manage my virtual environment? Tools such as VMware's vCenter Server are enough, correct? Well, not always. I have long been a fan of Embotics for its automation and control offerings for virtual environments. Embotics' V-Scout offering caught my eye since day one for the attractive price tag (free) and held on because of its good performance in such tasks as managing a VM's expiration date and population trending.
I have long maintained that vCenter doesn't quite fill all of the gaps for many implementations for the business side of things and, as a result, have used additional tools, including V-Scout to round out my virtualization practice. Organizations that want more may want to consider V-Commander for their virtual environments.
Pre-planning resources to architect management policies
We have all heard that virtualization is largely an exercise in planning, and in my practice that has held true many times. Embotics provides resources beyond the application to make the implementation succeed. One specific example is the planning worksheet document. This document allows you to map out your business rules and preferences before jumping into the product. The worksheet allows five main controls to be worked out before configuring the application. These include the following planning points listed below.
Zones and zone membership planning allow you to define boundaries for resources as logical destinations for workloads. This is a critical step that should be mapped out before going into the application. This is especially important when compliance and the secure placement of certain workloads or clusters are factors. A zone can be one of many different situations, depending on specific requirements. Some example zone memberships include the following:
putting hosts and clusters together;
selecting resource pools within a cluster or clusters; and
clusters with hosts and additional hosts.
This method of marking vCenter objects (i.e., VMs, resource pools, data centers, clusters, etc.) with these labels makes it easy to see whether a workload is in the correct location. Zones can be configured for inheritance, making aggregated resources easier to categorize in masse. There is also functionality to create an explicit zone, which is a zone configuration applied directly to a single VM or other items.
This starts to make more sense when aggregated infrastructure resources from multiple vCenter servers are located in different locations. Zones are possibly one of the more subtle features that make V-Commander a robust solution for managing virtualized environments.
Another planning point that supports use of a V-Commander installation is the inventory of predefined and custom attributes. Custom attributes are nice, but within vCenter they go only so far. V-Commander's custom attributes inventory is a separate set of attributes but differs from vCenter in that these attributes feed into the reporting engine as well as work across vCenter instances. These attributes are straightforward with 11 built-in custom elements and several user-added attributes. The V-Commander worksheet also suggests a few inventive attributes, such as an emergency contact number for a VM that includes cell phone numbers of application owner(s), a provisioning ticket number that references your work order system for deploying a VM, service-level agreement tier definition for a specific VM and a compliance indicator for any relevant compliance considerations. More important, custom attributes are an arena where you can map out what your organization needs for a management and reporting entity.
V-Commander allows you to set policies on key attributes associated with a VM's state. One of the concepts that V-Commander introduces is a VM's approval state. The approval state can be configured through policy to do actions, such as stopping or suspending the VM, message-based alerts of an unapproved VM and authoritative actions, including deleting the VM from disk. Other management capabilities include full-service management of a VM's state by configurable expiration date or end-of-life policies that can roll into a virtualization practice for development VMs and older operating systems.
There is a system cost model that can be configured in V-Commander to bake your cost model into the management tool. This is still a tricky area for many organizations, however. If you can fully separate a platform's cost (hardware, operating system and supporting environment) you will find tools like this useful.
These pre-planning resources give a good picture of the big-picture functionality of V-Commander to shape your virtualized infrastructure management.
V-Commander practical usage
As you can see from the pre-planning points, V-Commander covers a lot of territory that can aid the virtualization administrator, specifically with larger installations where many of these points are required to manage the landscape. This list is a selection of features relevant to larger installations, as there are additional features that we haven't covered yet.
V-Commander provides an approval state control for VMs. The approval state feeds into policies that are available for configuration. When a vCenter server is enumerated in V-Commander, to the software allows all VMs to be set to an approved state to avoid issues on initial use. The Approval state is shown in many locations throughout the program. The image below shows an inventory of VMs with their approval states.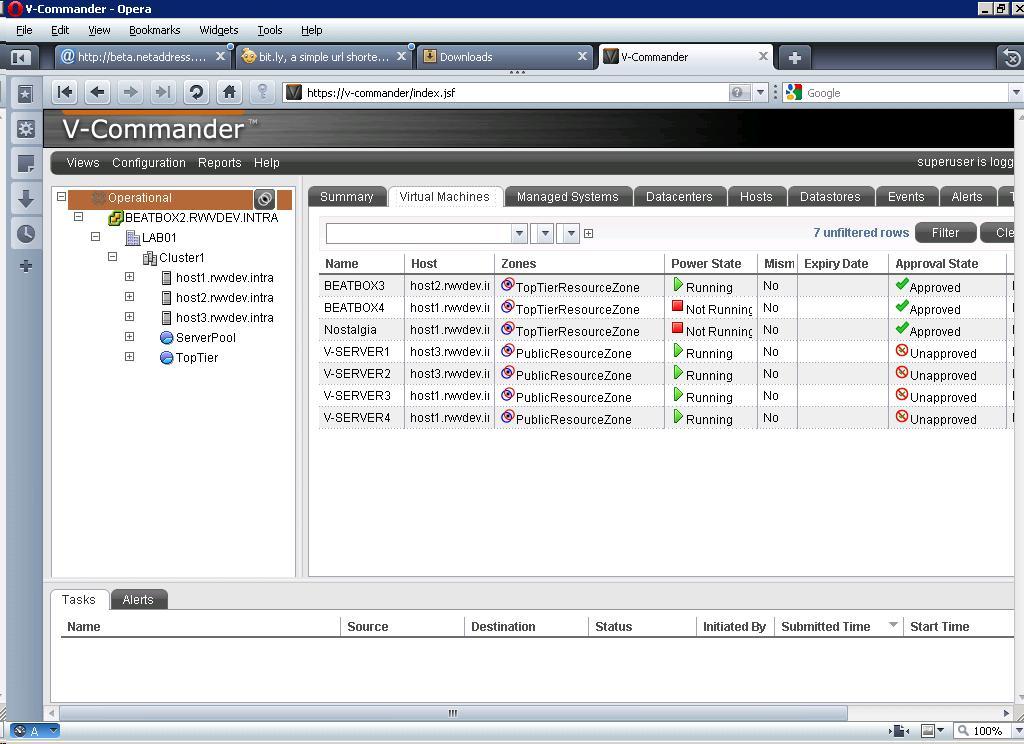 Lifecycle Controls
V-Commander offers controls for lifecycle management for VMs. One of the more underused features of virtualized infrastructure management is an expiration date. V-Commander offers expiration date functionality that, when it expires, displays the VM as expired in many views throughout the product. I have found great success in using expiration dates for unspecified development VMs. Quality assurance or test systems have a different lifespan requirement, however. Another element of V-Commander is the end-of-life VM. This can be relevant in operating system migrations or VM retirement cycles.
Additional features of V-Commander
V-Commander also has several additional features that complement the management options for a virtualized infrastructure. One of these features is storage management. For all data stores enumerated in V-Commander, select users (this task is a permission-controlled activity) can perform a data store scan. Such a scan locates VMs that may be in the data store yet not in vCenter or a host inventory. This scan also enumerates other files, such as a CD-ROM's .ISO files that consume valuable storage space. The illustration below shows the iSCSI1 data store scan shows both other files and VMs out of inventory.

VM customization of the standard configuration items such as network address, computer name, domain membership, product key and resetting the Windows secure identifier (SID) can be done through V-Commander. Other related functionality includes the ability to clone and deploy from templates. This can be beneficial if you want permission in one area for only certain roles and in lieu of permissions applied in vCenter as well. Related to this functionality is V-Commander's management of a VM repository for standard builds, which flows naturally into policy, zone, approval state and other management elements.
V-Commander offers integration to select virtualization products. Both VMware Lifecycle Manager and PlateSpin Migrate can be configured to allow VM creation. This can be incorporated into your policy where applicable for areas of virtual infrastructure that could be populated from these other tools. The activity from Lifecycle Manager or Migrate is available in the V-Commander reporting engine.
V-Commander has more than a dozen built-in reports that include zone distribution to show how VMs are displayed across zones, an overprovisioned disk report that shows free space on VMs (and associated costs when configured), a reclamation report that represents the capacity made available from expired VMs when they are removed, and VM population trending that represents VMs in number but also CPU, disk and memory growth projections based on usage.
Sometimes a simple view into your virtualization infrastructure is beneficial as well. V-Commander has a dashboard that provides a quick view of the number of VMs running and a summary count of the management status. The dashboard is shown below.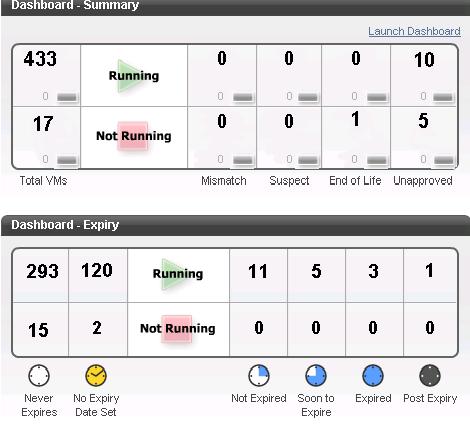 V-Commander architecture
As shown in the screenshots above, V-Commander is a Web-based application that runs as a service on a Windows server. V-Commander can interact with up to 10 vCenter Servers. VSphere and VMware Infrastructure 3 editions are supported for ESX, ESXi and vCenter. V-Commander has a database for the application, and that can be hosted on an existing database server in place of or as an integrated database for the application server. The figure shows this option during the V-Commander installation.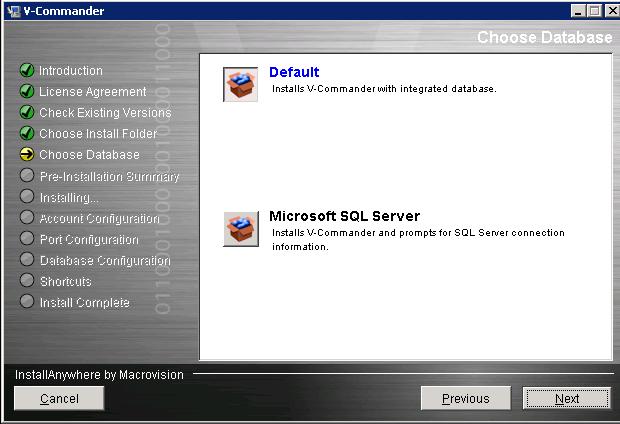 Most practical installations would involve putting V-Commander on its own, dedicated server. V-Commander also works well as a virtual machine as long as the documented requirements are met, which are reasonable at 250 MB of local storage for the application, 1.5 GHz of CPU and2 GB of RAM, among other factors.
Summarizing V-Commander
V-Commander is an enterprise-class management tool for VMware virtualized environments that allows policy-based management to infrastructure in a customizable fashion. In larger organizations, V-Commander makes sense as well as where policy and procedure requirements are well-established.
About the author
Rick Vanover (VCP, MCTS, MCSA) is an IT infrastructure manager for a large financial services organization in Columbus, Ohio. Vanover has more than 12 years of IT experience. His areas of interest include virtualization, Windows-based server administration and system hardware.
Dig Deeper on Using monitoring and performance tools with VMware