Problem solve
Get help with specific problems with your technologies, process and projects.
What's (not so) new in vSphere5 – Part 1 (ESX, vCenter, VUM, VCVA)
This is the first part in a series of posts about what's new in vSphere5. It's meant to be a summary of all the major changes and improvements in the vSphere5 platform. The idea of these blogpost is to be both as as an checklist reminder to read prior to your VCP5 exam, and also part educational as well
This is the first part in a series of posts about what's new in vSphere5. It's meant to be a summary of all the major changes and improvements in the vSphere5 platform. The idea of these posts is to be both as as an checklist reminder to read prior to your VCP5 exam, and also part educational as well. I wrote up these notes privately before my VCP5 in Feb, and I thought others might find the summary useful.
I think its fair to dub "vSphere5″ as the "Storage Edition" – because SO MANY changes have made across the board in the storage layer of the platform. If you like in contrast vSphere4 was very much the "Network Edition" as it introduced features like Distributed vSwitches and support for the Cisco Nexus 1000V. It's part of an overall project to make vSphere the perfect platform to virtualize all manner of workloads which could in the future include high-performance computing (HPC) that can still to do this day be tricky to virtualize. Of course, there are lots and lots and lots and lots of changes elsewhere to boot.
Normally, I would have written such a "What's New" guide ready for the vSphere5 GA. But I didn't have the time or the inclination. vSphere5 is close to being almost a year old, so its a bit difficult to say its "new". But hey, as they say on Ebay it's "new to you".
What spurred me to do so was the exam I took on 28th Feb. Remember if you a former VCP4 or attended vSphere4 training – you now are REQUIRED to take the "What's New" class and then pass the exam. The idea is that will serve as pre-exam primer that you can quickly re-read before taking the exam. This is no substitute for hands-on experience of using these new features.
Finally, if you think there is ANYTHING NEW, I've missed or overlooked – then please leave a comment, and I will update based on your recommendations.
This first post concerns major changes to ESX5i, vCenter, vCenter Virtual Appliance (VCVA), VMware Update Manager (VUM), and Direct Console User-Interface (DCUI)
Warning:
If you like me you passed the vSphere4.0 VCP exam, but not kept up to date with vSphere4.1 or being practicing your vSphere skills for sometime – simply reading this "What's New" guide will NOT be enough. You will need to refresh your brain cells. Either by re-reading old vSphere4 literature (like my rather excellent "Implementing vSphere4″ book!) or by buying a more modern tome such as Scott Lowe's Mastering VMware VSphere 5. The VCP exam still questions you on functionality that hasn't significantly changed since vSphere4 or even Vi3. So if your feeling mentally rusty, its time to take out the WD40 on your memory banks.
LAB PRACTICE RECOMMENDATIONS:
Build a vSphere4.1 environment, and upgrade it too vSphere5 using VUM
Practise with the ESXCLI commands
Deploy the VCVA with the embedded DB option
What's New in ESX5.x
Well, I guess the first and most obvious thing is that ESX "Classic" or the "Service Console" edition has gone. We now only have one distro of ESX to worry about and that's the "embedded" ESXi version. Other notable changes and caveats include:
Maximum of 2TB host memory
Up to 160 logical CPUs
512 virtual machines per host
2,048 virtual CPUs per host
Installer changes partition table information from using a MBR format to using a GUID format. A creates a 4GB scratch partition…
When upgrading basic stuff preserved during upgrade but you loose stuff that's not relevant such as SUDO and SYSLOG config – also loose any 3rd party software like Nexus 1000V and EMC PowerPath. Additionally the Firewall config is lost and there are changes in resource pool settings change could result in VMs not powering on
With the decline of "Service Console" the "vSWIF" concept has gone – and instead management portgroups have become VMKernel Ports
There are limited number of supported upgrade paths – from 4.0 to 5.0 only. Customers using ESX 3.5 would have to upgrade to 4.0 first.
For small environments with small number of host – VMware recommends an interactive upgrade, for mid-scale environments they recommend using VUM, and for very large environments recommended scripted upgrade
Interesting VUM does not preserve rollback data after an upgrade.
There are changes to the ESX scripted install – such that there's no need to specify media location, as the install image loaded directly into RAM. Some commands have been depreciated and removed.
If you want to parse advanced settings during the install use Shift+0 to edit boot options in Welcome Screen…
The Direct Console UI (DCUI) can be accessed remotely via SSH.
SSH is disabled as service and via the firewall by default. Once enabled the root account can access the host without any other changes to configuration files.
The ESXCLI has been expanded, and there is now a version in the vCLI which matches its local functionality. VMware plan to replace the esxcfg- style commands with the ESXCLI commands. Familiarize yourself with the ESXCLI command using this online help article
VMware Update Manager (VUM)
There have been few changes in VUM, the main change is that VMware has removed all capacity to update guest operating system such as Windows
So VUM is now focused on remediating ESX and Virtual Appliances.
It has built-in baselines for critical and non-critical patches to the ESX host
Under VMs/VAs their baselines to upgrade virtual hardware and VMware Tools, as well as to carry out VA Upgrades
VUM can be used to upgrade ESX 4.x to 5.x, this achieved by taking the ESX5.x ISO and creating a brand new "upgrade" baseline, and then applying it to ESX4.x host being managed by the vCenter5.0/VUM5.0 system. Note the ESX 4.x system needs a least 350MB of free space for this to be successful. The vCenter ISO contains a pre-upgrade checker that can be used to verify this.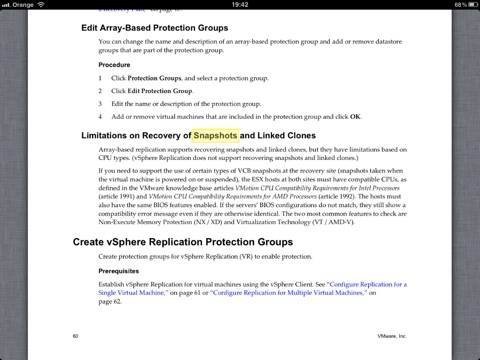 vCenter (Virtual Appliance)
Brand new vSphere5. A Virtual Appliance version of vCenter, based on SUSE Linux.
Disk Space – 7GB to 82GB max
Scalability and SRM

RAM – 1-10 Hosts, 1-100 VMs = 4GB
RAM – 10-100 hosts, 100-1000 VMs – 8GG
RAM – 100-400 hosts, 1000-4000 VMs – 13GB
RAM – 400 hosts, 4000s VMs – 17GB

Defaults to 2xvCPU
Remember to configure network & time zone settings after boot
Embedded (IBM DB2 Express) or Oracle as external DB
You copy the SYSPREP files for the VCVA to /etc/vmware-vpx/sysprep
At the time of writing the VCVA does support is limited

No VMware Update Manager
No Linked-Mode – which can impact on the ease of licensing a vCenter environment.
No support for the VSA (vSphere Storage Appliance)
Only Oracle as external DB, although you could setup a free distro of Linux running OracleXE (Express Edition).
vCenter (Windows)
VMware now recommends at least 4GB of RAM and 4GB of free disk space to install the Windows version of vCenter
They support just the Microsoft SQL 2003 and 2008 editions – there's no longer support for Microsoft SQL 2000
For internal database they now use Microsoft SQL Express 2008 R2…
During the install DBO rights are no longer required, although you still need access to the MSDB during install. These rights to MSDB can be revoked after the install, but will needed to be added for any subsequent upgrade
vCenter5 adds a "Solutions Manager" icon in the home page – its monitoring feature that shows the status of some plug-ins to vCenter including ESX Agent Manager, vServer Manager and if you have SRM and vSphere Replication enabled. Shows a summary of their status as – Normal, Degraded and Critical
Web-Client – all new web-client based on Adobe Air. You can now manage vApps through the web-client. Setup involves "Registering" the web-client with your vCenter(s). It relies on the VMware Inventory service to function correctly, and is compatible with the vCenter Linked Mode feature.
Upgrading from vCenter4 to vCenter5

If you have Windows 64-bit OS the upgrade can be carried out "in place". During the time of the upgrade VMware HA Cluster continue to function, but DRS stops until the vCenter service is available again.
If you have Windows 32-bit OS they recommend migrate migrate the DB to 64-bit system, and then backup vCenter settings using "Data Migration Tool". Then create a clean 64-bit edition of Windows install the SQL Native Client, create DSN and then install vCenter5… This should pick up on "existing DB" and upgrade it. Some might say if you vCenter environment is modest, you might be better off with clean install. Personally, I moved my vSphere4 vCenter over to 64-bit as soon as VMware made it available.
If do this 32-bit to 64-bit upgrade the "Data Migration Tool" takes – LDAP, Port Settings, SSL Certs & Licenses – and it can be found on the vCenter ISO…