VMware NIC teaming (VMware network interface card teaming) definition
VMware NIC teaming is a way to group several network interface cards (NICs) to behave as one logical NIC.
Download tips on addressing the unique challenges of storage in VMware environments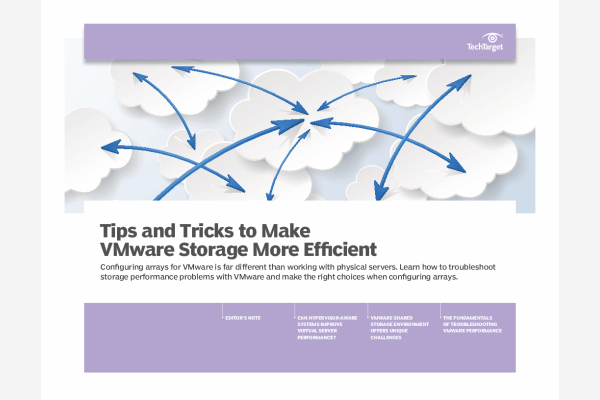 Configuring arrays for VMware is far different than working with physical servers. Explore this technical handbook to learn how to troubleshoot storage performance problems with VMware and make the right choices when configuring arrays.
Any physical NIC bonded to the NIC team will transmit packets, and packets coming in from a physical NIC to the appropriate logical NIC. The virtual machines assigned to a logical NIC are not aware of the physical NICs supporting the system.
Properly configured NIC teams allow guest virtual machines (VMs) in a VMware ESX environment to failover if one NIC or network switch fails. VMware NIC teaming also helps load balance network traffic. Bonding NICs can also improve fault tolerance by preventing a single point of failure for the physical NICs; this is sometimes called NIC redundancy.
Continue Reading About VMware NIC teaming (VMware network interface card teaming)