VMware vApp
A VMware vApp is a collection of virtual machines (VMs) and sometimes other vApps that host a multi-tier application, its policies and service levels.
Looking for something else?
PRODUCTS
A VMware vApp is a collection of pre-configured virtual machines (VMs) that combine applications with the operating systems that they require.
Tips, Tricks and Techniques To Make VMware Storage More Efficient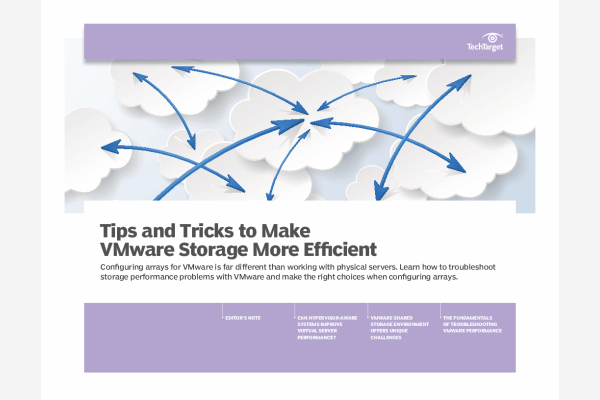 Configuring arrays for VMware is far different than working with physical servers. Explore this technical handbook to learn how to troubleshoot storage performance problems with VMware and make the right choices when configuring arrays.
By submitting your personal information, you agree to receive emails regarding relevant products and special offers from TechTarget and its partners. You also agree that your personal information may be transferred and processed in the United States, and that you have read and agree to the Terms of Use and the Privacy Policy.

VApps allow disparate VMs to work together in a stack as an application, and support cloud computing architectures. Administrators can nest vApps within vApps, set up VMware resource pools and deploy new vApps based on existing ones.
VMware vApps operate on the Open Virtualization Format (OVF) standard and vApps are exported in OVF format. VMware vApp meta data resides in the vCenter Server database.
See also: virtual appliance
Continue Reading About VMware vApp