Evaluate
Weigh the pros and cons of technologies, products and projects you are considering.
Backup is easy with VMware VDP, but scalability limits the free tool
VMware VDP overhauls the vSphere backup appliance. VDP is free, simple to set up, stable and easy to manage, but not right for every data center.
VMware's backup appliance has evolved in recent years to VMware VDP, which is bundled with all available vSphere editions. A lot has changed with this free appliance, enabling some vSphere 5.1 administrators to drop their third-party backup software.
A large proportion of vSphere administrators don't look for backup software within their vSphere toolset. Typically, vSphere users invest in third-party backup software, whether or not it is tailored for virtual infrastructures. VMware vSphere Data Protection (VDP) backup appliance debuted with vSphere 5.1, and it may be time to take a look. The renewed backup appliance completely replaces VMware's old backup architecture.
At first glance, the vSphere backup offering seems identical to previous versions: a Linux-based appliance. It creates backups to disk of full virtual machines (VMs) and allows you to restore VMs or individual files. Technical features include data-deduplication and changed block tracking (CBT). Unlike the previous backup appliance, VMware Data Recovery, VMware VDP is based on EMC's Avamar technology for data replication. This makes a world of difference in stability and maturity compared to VMware's previous backup tool iterations.
VMware VDP requirements and installation
You can always dig into VMware's administration guide for VDP, but getting started is simple. Administrators can use the vCenter Linux appliance, if they prefer. The VDP appliance only requires VMware vCenter 5.1; you do not need to upgrade your vSphere servers. For example, VDP can back up VMs on vSphere 4 hosts as long as you use vCenter 5.1.
VMware vSphere Data Protection is free, simple to set up and easy to manage for backups.
Be sure your domain name system (DNS) configuration is working, including reverse lookup with a record for your new appliance. Download the VDP appliance from VMware and deploy it from the vSphere client. Enter an IP address and other networking details, then you're ready to power on VDP. You can now open a Web browser and access the configuration page at https://<yourip>:8543/vdp-configure. Use the root user password "changeme" for the appliance.
After login, a straightforward wizard asks for hostname, DNS and some other credentials for vCenter and VMware single sign-on server. There's no need to login to the Linux appliance; the remaining configuration work takes place via a Web interface or in the vSphere Web client. You can still log in to the appliance for troubleshooting, since it is based on SUSE Linux Enterprise Server 11.
Backup and restore
You'll create backups and perform restores with VDP via the vSphere Web client. In the main page's menu on the left, you'll see a new entry named vSphere Data Protection (see Figure 1). Use the simple VDP wizard, choosing when and which VMs to back up, and how often. Define the retention policy on how long to keep this data, being mindful of how much data will fit on your VDP appliance.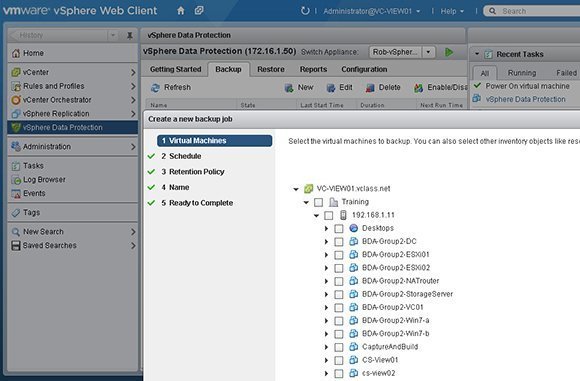 Figure 1. VMware VDP is accessed via the vSphere Web client's main menu.
Should you use VMware's VDP?
VMware vSphere Data Protection is free, simple to set up and easy to manage for backups. Why don't all vSphere administrators deploy it? Scalability is a major factor. In vCenter, you can run a maximum of 10 backup appliances; each appliance supports backup of 100 VMs. This suggests that 1,000-VM backup is possible, but don't stress your system to handle the maximum limit. VDP can reasonably back up a couple hundred VMs in any given environment. Each appliance comes with a maximum of 2 TB of deduplicated storage, limiting the number of VMs that you can store in the backup disks.
The VDP appliance creates backups to disk. So, who protects the backup appliance and its disks? You do. In a disaster that wipes out your entire infrastructure, you will need a copy of the appliance to restore VMs. To create a copy, follow VMware's VDP administration guide instructions, starting by powering off the appliance. Confirm that the appliance has shut down then proceed with your preferred method of protection.
To create a backup, you need another backup. This can be as simple as exporting the appliance as an Open Virtualization Format template to a portable hard disk to be stored off-site. Make sure you are aware of the requisite extra security measures, and that you actually take them! You could also use another backup application to back up to tape.
As long as you're mindful of VMware VDP's limitations, it's a viable solution to back up your vSphere environment.