Sharing is caring: Sharing VMs in VMware Workstation 12
Since version 8, VMware Workstation -- now in version 12 -- has allowed administrators to quickly and easily grant access and share virtual machines with other users.
You don't need to run a full-blown vSphere environment to share VMs. Since version 8, VMware Workstation has offered...
Continue Reading This Article
Enjoy this article as well as all of our content, including E-Guides, news, tips and more.
an option to easily share VMs with other users.
Sharing a VM in VMware Workstation 12
To share a VM in VMware Workstation, you'll need to right click the VM in the VM library. From the menu, select Manage, and then Share. This starts a short wizard that will help you configure how to share the VM. The wizard will start by asking whether you want to move the VM or make a clone of it; the answer to this depends on what you intend to do with the VM. If you really want to work collaboratively on a VM, you can move it to the Shared VMs folder -- it will no longer exist in the My Computer folder. Alternatively, you can choose to make a full clone of the VM, which is useful if you want to provide access to it without allowing the other user to modify the original. In both cases, the new VM file will be written to a dedicated Shared Virtual Machines folder, which resides in the home directory of the user who shared the VM.
After specifying that you intend to share the VM, you'll be able to access it on its default port 443 from any computer, assuming that the firewall allows remote access to that specific port as well. If you need to change this port, go to Edit, and then select Preferences. You'll need to make the necessary adjustments before you can share your first VM.
After setting up the shared VM with VMware Workstation 12, you'll be able to connect to it. This can be done from either VMware Workstation or VMware Fusion. To connect, you'll need to select File, and then Connect to Server from either of these products. Next, enter the IP address or host name of the server, as well as the name of a user with sufficient permissions to access the VM.
Once you've entered the required information, you'll probably get a message stating that VMware Fusion can't verify the identity of the server. This message is generated because the VMware Workstation 12 server uses a Transport Layer Security certificate as proof of its identity and to generate a secure encrypted connection between client and server. Since there is no Certificate Authority to guarantee the authenticity of the remote host, the client will see a message stating that the identity of the server could not be verified. It's safe to ignore this message and click Continue to establish the connection anyway.
Setting up a user account
When deciding whether you want to provide access to a VM for remote users, it's wise to think about the permissions you'd like to grant to users. VMware Workstation 12 includes an option to define permissions as well as roles. Start by selecting the Permissions tab, which can be accessed by right clicking the Shared VMs folder and selecting the Permissions option. Under the Permissions tab you can add a user or group name and assign permissions to that user or group, as shown in Figure A.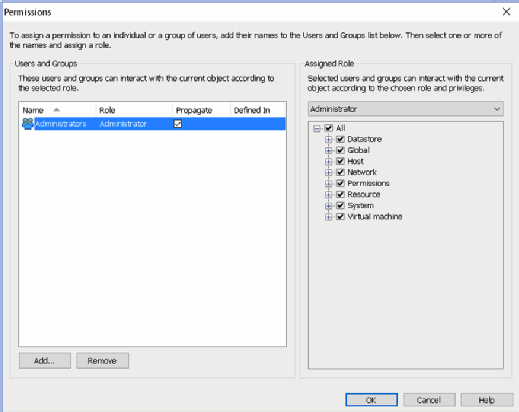 If you're a home user using Windows 10 to run VMware Workstation, there aren't that many user accounts to choose from. Also, as a home user, you won't be able to add user accounts easily. If, however, you're a corporate user working in an environment where Active Directory is used, you can select any user account from Active Directory and assign the desired permissions to that user account. This allows you to distinguish between users with full Administrator access to the VMs -- which is the default setting -- and more restricted user accounts that can, for instance, only work with the VM without making any modifications.