VMware snapshots in Workstation: Turn back the hands of time
VMware snapshots are a boon to Workstation test and dev environments. With VMware snapshots, you can easily fix any mistakes or system problems with just a few mouse clicks.
Time travel doesn't happen only in a science fiction series. With VMware Workstation, you can turn back the hands of time with snapshots.
VMware snapshots can capture a system state -- such as the configuration, disk state and memory of a virtual machine (VM) -- at various points in time. Using snapshots, you can revert back to a system state quickly without traditional restore technology.
VMware snapshots help correct mistakes in Workstation testing and development environments, which undergo frequent changes and require regular patches and quality-assurance testing. Before taking snapshots, however, it's important to understand how they work and how they differ from traditional backups.
Benefits of VMware snapshots
How many times have you applied a security patch, installed an application or made a change that adversely affected your system? With snapshots, you can revert to a previous system state without having to uninstall, clean up the registry or perform a backup/restore sequence.
VMware snapshots also allow for bigger leaps forward in test and development environments because when you enact a batch of changes, you don't need to test every permutation. Simply put, you can take a snapshot and then make several system changes. If the system fails, revert to the snapshot and make incremental changes. (By grouping and then applying a large number of changes, I save a great deal of time. If I have to use the single-step, incremental method once in a while, so be it.)
Performing and reverting to VMware snapshots
With Workstation, VMware snapshots are created and applied in Snapshot Manager. The figure below shows a typical Workstation VM with the snapshot icons circled. You can also access snapshot options from the menu bar (VM > Snapshot) or through the Snapshot Manager with Ctrl+M.
Figure 1
(Click image for an enlarged view.)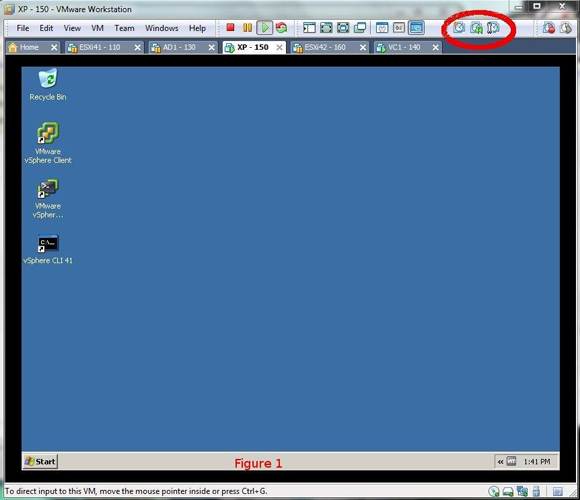 You can take a snapshot in several ways. One way is to click on the Take Snapshot of Virtual Machine icon, which is the left-most of the three icons that are circled in Figure 1. Alternatively, you can select VM > Snapshot > Take Snapshot.
Opening the Snapshot Manager pane provides additional resources and information:
Name: You can call a snapshot anything you like. By default, the file is called snapshot, and Snapshot Manager adds successive numbers to each file name after the name of each snapshot taken.
Description: This field records what you will change about the VM.
Thumbnail: This area provides a quick view of the desktop when the snapshot was taken. In Figure 2, note that the thumbnail shows only one folder, while the current desktop has two. This feature offers a quick visual check to ensure that you can go back to the intended state.
Show AutoProtect snapshots: You can configure VMs to take snapshots periodically. AutoProtect allows you to set the snapshot interval at every half-hour, hour or day. It would be better if VMware provided more granular settings, but these options are the only intervals available.
Another option is Maximum AutoProtect snapshots, which limit the amount of disk space consumed by the automatically created snapshots. If you change the Maximum AutoProtect snapshots from 10 to 20, for example, the snapshots taken per hour, per day and per week will double.
Clone: You can clone a VM or snapshot that is powered off.
You Are Here: This icon shows your current state. When the target is selected, you also have the option to take a snapshot.
Delete: This option allows you to delete the snapshots in any sequence without affecting other snapshots.
Figure 2
A look at Snapshot Manager. (Click image for an enlarged view.)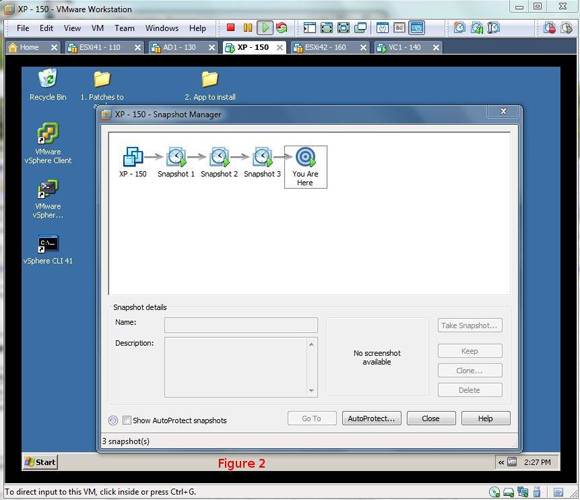 There are several ways to revert to a snapshot. In Snapshot Manager, select any snapshot (as shown in Figure 2, where I've selected Snapshot 2) and either click the Go To button along the bottom or right-click the snapshot and select Go to Snapshot.
Alternatively, you can click on the menu bar and select VM > Snapshot > Revert to Snapshot. But I don't like this method. It reverts only to the previous snapshot and doesn't provide a visual thumbnail to serve as a sanity check.
VMware snapshots: Not full backups
VMware snapshots are not a replacement for backup/restore technology. As you know, a VM is composed of a couple files. Because snapshots are stored in the same directory as other VM files, they can accidently be deleted or become corrupt. If that happens, and you use snapshots as your primary backup method, you're out of luck. Therefore, don't forget to backup your virtual machines.
Despite the usefulness of VMware snapshots, there's a real possibility that you'll forget about existing snapshots. It can become a problem once the snapshots grow in size over time, thus consuming valuable disk space. Best practice calls for creating snapshots as needed and deleting them as soon as you don't need them.
Dig Deeper on VMware Workstation, Fusion and Player