What VMware's software-defined data center is missing
VMware envisions a software-defined data center running all commodity hardware, but its current SDDC product offering falls short on several fronts.
VMware's concept of a software-defined data center isn't just a new way to say "cloud computing"; its component products can help vSphere shops evolve to a new level of data center virtualization.
However, VMware left holes in the software-defined data center product suite's present incarnation. Filling these gaps will make the future virtualized data center more useful and efficient.
Though VMware based its software-defined data center (SDDC) tool set primarily around vCloud Suite, there is no single vCloud or SDDC operating system (OS) to simply load and implement. Quite the opposite, many puzzle pieces make up the software-defined data center tool set. These pieces can't complete the picture today, and some pieces that are in place are not optimized to the task.
We can identify the missing and weak puzzle pieces of a VMware-based software-defined data center by examining the product lineup: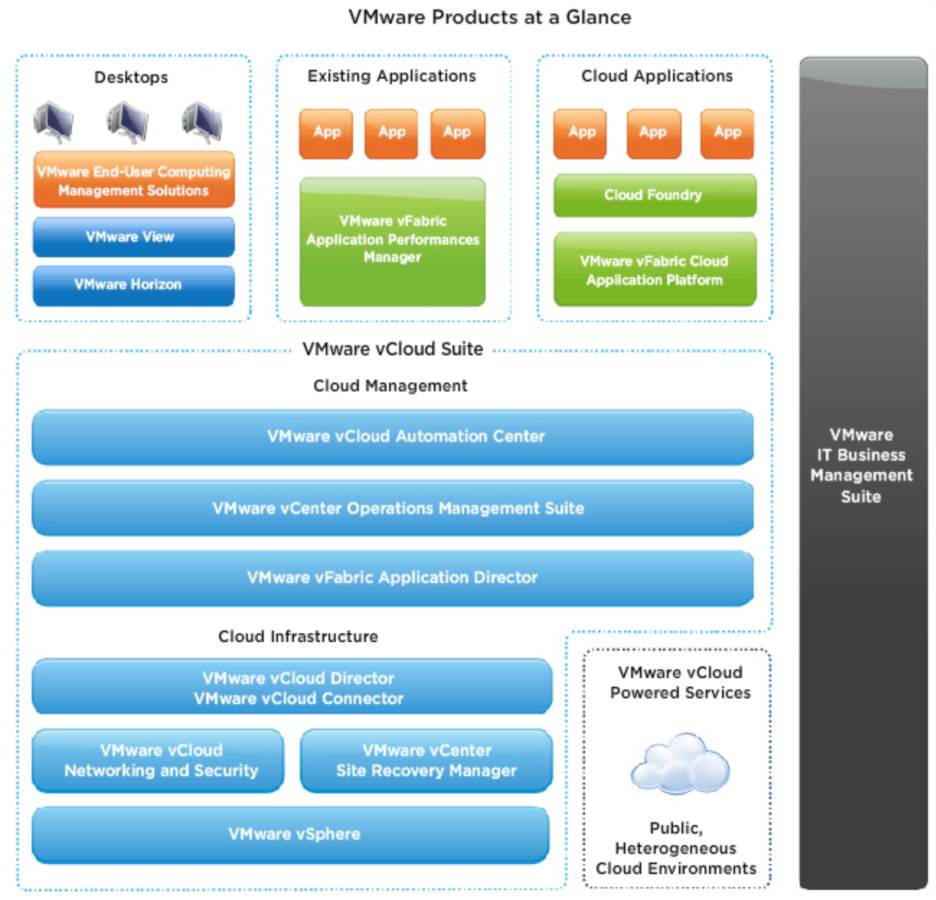 VMware vSphere is VMware's foundation for SDDC. The ESXi hypervisor that runs on each physical server is arguably the best tier-one hypervisor available today.
VMware vCenter is a required virtual machine (VM) and host management point for multihost vSphere implementation. It can be used as a Windows application (in a Windows Server VM) or as a Linux-based virtual appliance. Without self-service, multi-tenancy or capacity management, vCenter does little to implement the cloud or software-based data center operations. VCenter manages virtual infrastructures but is merely a middleman for cloud-like deployments, connecting vCloud Director with hosts and VMs. These can easily get out of sync. VMware vCenter simply doesn't scale to the high number of VMs and hosts required by large enterprises and service providers.
VMware vCloud Networking and Security (vCNS), previously called "vShield," is a great tool for virtual infrastructure security, but it's yet another virtual appliance to deploy and Web interface to configure. While the initial deployment must be done separately from other installs, vCloud Director can use vCNS to create multi-tenancy infrastructure clouds. You need to deploy a new virtual appliance each time you create a secure multi-tenant network.
VMware vCenter Site Recovery Manager integrates with the new vSphere Replication and vCenter, but neither integrates with vCloud Director, nor are they aware of this SDDC infrastructure they're there to protect. Disaster recovery protection is a weak link in the SDDC vision.
VMware vCloud Director (vCD) is a Web-based self-service portal for virtual organization and virtual data center administration. It includes secure multi-tenancy and a VM application catalog for fast deployment. However, vCD is not designed for the smaller organizations that could actually benefit from its features. The complex installation requires too many other pieces for vCD to do its assigned job. To implement vCD, you'll need vSphere, vCenter, vCNS and an external SQL database, with the Cisco Nexus 1000V also recommended. You should create a management server cluster just for all of these cloud management pieces. To make SDDC viable, VMware should integrate vCloud Director with vCenter and streamline implementation. VCloud Director should be affordable for small businesses implementing a three-server private cloud.
VMware vCloud Connector is a free virtual appliance connecting the vSphere or vCloud Director private cloud to a public vCloud provider. VCloud Connector only works for vCloud public/private clouds or vSphere infrastructures. You can't use vCloud Connector to connect to Microsoft Hyper-V infrastructures, Citrix XenServer infrastructures or other public cloud providers such as RackSpace and Microsoft Azure.
For cloud capacity and performance management, VMware recommends vCenter Operations Manager, which was not designed to recognize multiple tenants, vApps or provider data centers.
How will VMware replace users' reliance on the physical network when the data center is abstracted by software? Today, vSphere creates a basic virtual network with virtual switches (vSwitches) and network interface cards (vNICs). Even with vSphere distributed switches and Cisco Nexus 1000V, you rely on the physical network's capabilities. VMware can offer massive virtual network scalability and downplay physical switches if it integrates its Nicira acquisition with vSphere and vCloud. VMware also will need to promote the Nicira Network Hypervisor's features.
VMware's intent is to offer storage virtualization; currently, the Virtual Storage Appliance (VSA) is too limited and does not scale. Today, most vSphere users create virtual disks and use the virtual machine file system (VMFS) but rely on third-party storage area network hardware. VMware's VSA enables advanced vSphere features and storage availability features. It is a decent tool for small remote offices or new small and medium-sized business implementations, but won't support a true software-defined data center.
VMware has smartly offered APIs in each of its products and can continue strengthening the individual products in the SDDC portfolio. Currently, these numerous products loosely talk to each other with the addition of third-party servers, network and storage products. To offer a true software-defined data center tool set, VMware must integrate its loosely federated products where appropriate and improve them to do more. VMware should integrate vCenter and vCloud Director and offer editions for differently sized companies. Additionally, VMware must pull the best of Nicira's assets into vSphere and devise a new storage hypervisor to further virtualize the data center.